Eisteddfod's Welsh language rule could deter artist Josephine Sowden
By Huw Thomas
BBC Wales arts and media correspondent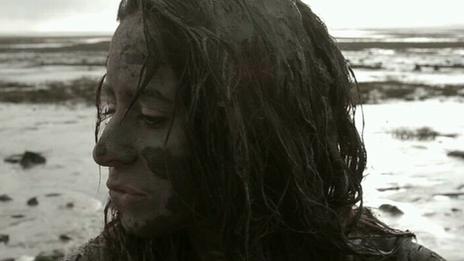 A winning artist at last year's National Eisteddfod says she may not enter again because of a rule limiting the use of languages other than Welsh.
Josephine Sowden's video, The Lilies of the Field, won the £5,000 prize at the Lle Celf (Art Space), but her use of English words drew some criticism.
Any original words in art works must be in Welsh, although other languages can be used in quotations.
A festival spokesman said he hoped the rule would not deter artists.
Ms Sowden's use of English words in her video installation drew criticism at the 2013 Eisteddfod in Denbigh.
Critics included Welsh language campaign group Dyfodol i'r Iaith (A Future for the Language), who said it set a "dangerous precedent" for the competition.
Application forms for the 2014 art competition now draw attention to an existing rule which states that "any original words incorporated in the artwork (including sound and video) must be in Welsh".
It adds that words in other languages "may be included" if they are part of an object used in the work, or are quotations.
Robyn Tomos, the eisteddfod's visual arts officer, said he hoped artists would not be deterred from entering the competition.
He said: "If there is any question, I would advise artists to get in touch. Let's discuss what the possibilities are."
Mr Tomos said the use of spoken or printed words in art works was relatively recent.
He added: "When the language rule was established in 1950 when the eisteddfod was at Caerphilly, we had paintings in frames and sculptures on plinths so it didn't arise then.
"It's only a recent thing, with recent practice."
'Prestigious competition'
Ms Sowden said she "would hold back" from entering the competition after the Welsh language rule's impact on the exhibition was clarified.
She said: "I understand why (the Welsh rule) has been made clearer because there has been some upset from it, and I know it's a Welsh language festival.
"I think it's a shame in terms of the competition because it is such a prestigious competition. It's such an honour to win, and to be a part of.
"I think it's a shame if it does deter people from entering, just because people might be worried if their piece has got something other than Welsh in it, it might not be accepted. I think it's a shame but I understand."
Defending her use of English in her video, she added: "Even though I know I am speaking English, it's more about the ideas behind it, the way I'm speaking, how incessant it is."
Iwan Bala, a previous winner of the gold medal for fine art, won the Ivor Davies Award at the 2013 festival for a work which included text written in English and Spanish, as well as Welsh.
He said: "There was some controversy over my work as well, which was a drawing.
"It was a translation by a friend of mine into English of a Spanish poem, and I loved it, and I translated it into Welsh with the help of Twm Morys, the chaired bard.
"I thought this was about positioning the Welsh language on the same level as English and Spanish as an international language, as a language that can be translated, so that it plays its part in the wider world of languages."
Mr Bala said he was still considering whether to enter the Lle Celf at the 2014 National Eisteddfod in Carmarthenshire.
He added: "Generally speaking there are always some pieces of work that will create more controversy than others, and I don't think that's such a bad thing. It draws attention to the eisteddfod and to the exhibition."
Related Internet Links
The BBC is not responsible for the content of external sites.