Welsh language standards for public bodies published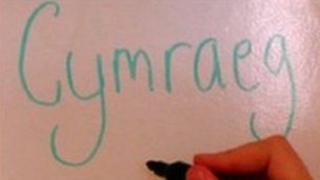 Welsh language standards which some public bodies will have to follow have been published by the Welsh government.
They are expected to come into force this autumn, but language campaigners say the standards need to go further.
The proposed standards will apply to the Welsh government, councils and national parks, and include giving Welsh priority on bilingual signs.
Welsh language commissioner Meri Huws will asses how the standards should be adopted by each body.
She drafted the initial standards last year but they were rejected by the Welsh government, which has now published its own standards.
They include making it clear that organisations welcome correspondence with the public in Welsh, and that Welsh should have priority on bilingual signs.
The main switchboard of the bodies should also be manned by a Welsh speaking member of staff and all press releases will have to be published in Welsh.
First Minister Carwyn Jones told assembly members on Monday: "The publication of these proposed standards is an important step in fulfilling our vision as stated in our Welsh language strategy to improve Welsh language services to citizens.
"The operational standards will also provide a platform, especially for public sector organisations, to increase opportunities for people to use Welsh in the workplace."
After a period of consultation the standards could become law in November.
However, Welsh language campaign group Cymdeithas yr Iaith Gymraeg has called on AMs to strengthen and improve the standards.
Its chair Robin Farrar said: "The language standards should establish new and clear rights so people can use Welsh day to day, without difficulties or barriers.
"But the announcement today doesn't include these rights, despite cross-party support for our calls.
"Indeed in a number of areas, such as phone services and websites, there's a danger that the standards could mean a worse service than that promised by language schemes."