New Doctor Who Peter Capaldi's first-day nerves on set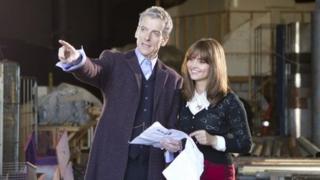 The new Doctor Who has admitted to first-day nerves after stepping onto the show's set in south Wales.
Peter Capaldi, who has replaced Matt Smith as the Time Lord, joined co-star Jenna Coleman in Cardiff.
The actor, and lifelong Doctor Who fan, said: "New job, first day, slightly nervous. Just like the Doctor, I'm emerging from the Tardis into a whole other world."
Capaldi appeared in the hit BBC show during the Christmas Day episode.
The show's writer Steven Moffat said: "First the eyebrows. Then, at Christmas, the face. Coming soon, the whole Doctor. In the Cardiff studios, the Capaldi era begins."
Filming on the latest series of the show will continue until August with director Ben Wheatley coming on board.