Dyfed-Powys Police plan to shed 118 posts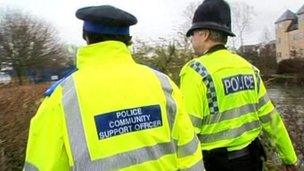 Nearly 120 jobs could be lost by Dyfed-Powys Police as it aims to reduce its budget by £11.5m by 2017.
The plan includes a reshaping of professional support services currently delivered by a civilian workforce of 823.
It aims to improve and maintain frontline policing in Carmarthenshire, Ceredigion, Pembrokeshire and Powys.
Union Unison said they would engage with the force to mitigate against any compulsory redundancies.
The force said it would keep redundancies to a minimum, losing posts through natural wastage.
Chief Constable Simon Prince said that none of the 156 Police Community Support Officers (PCSOs) who are part of the civilian workforce would lose their job.
It is understood that staff in civilian support roles would be affected including those from finance, personnel, estate, corporate services and admin.
A review of the operational policing structure will start towards the end of this month and formal consultation on the proposal has begun with trade union Unison.
According to the force about 38 of the posts will be lost through not filling vacancies and the projected number of redundancies is 55.
Voluntary redundancy applications will also be considered and police staff are being encouraged to apply for police officer and PCSO roles.
Mr Prince, who will lead the change programme, said: "I intend to reduce the number of redundancies to a minimum and no PCSOs will face redundancy."
"Our new structure will see us continue to put the public first in all that we do.
"Our civilian support services will be resourceful, agile, lean, adaptable and flexible. They must deliver efficient and effective support to frontline policing."
Dyfed-Powys Police and Crime Commissioner Christopher Salmon, who will scrutinise the changes, said: "The public, under pressure financially themselves, constantly tell me they want strong frontline policing.
"In modernising and streamlining our support services we will enable the police to do policing.
Dyfed-Powys Police currently has around 1,100 full-time police officers, about 200 special constables, 156 PCSOs and 667 civilian members of staff.
Unison regional representative Glyn Jones, who also has lead responsibility for police members said: "We were made aware yesterday of the proposals by Dyfed-Powys Police and we held a meeting at police HQ yesterday afternoon to explore what it meant.
"We are prepared to engage constructively with the force in their reorganisation and part of our role is to mitigate against compulsory redundancies while recognising there will be an overall reduction in posts."
Related Internet Links
The BBC is not responsible for the content of external sites.