Kitchener 'Your country needs you' coin offensive, says Dai Lloyd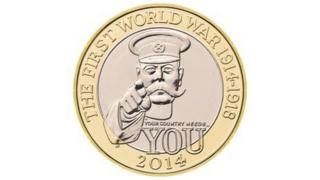 A former Plaid Cymru politician says the Royal Mint should scrap a commemorative World War One coin which he branded as "offensive".
Dai Lloyd said the £2 coin with an image of Lord Kitchener's call to arms should not have gone into circulation.
It was used during the British government's WWI recruitment campaign.
The Royal Mint at Llantrisant, south Wales, said the coin was part of a wider commemoration marking history which should not be viewed on its own.
Dr Lloyd, who lost his regional seat five years ago but hopes to stand again, said there were better ways the Royal Mint could have marked the war's 100th anniversary.
"Until now there has been a widespread consensus that the commemoration should avoid glorifying war or reopening old wounds," the Swansea GP said.
"But it is hard to imagine a more offensive and jingoistic message to send to the rest of the world than this unfortunate image.
'Instantly recognisable'
"It epitomises the blinkered mentality that sent millions to their deaths in the trenches, including tens of thousands from Wales."
Lord Kitchener was the Secretary of State for War at the start of WW1 and his image and the slogan "Your country needs you" become iconic.
The Royal Mint said it embarked on a five-year commemoration of the "emotive wartime journey from outbreak to armistice" in 2014.
A spokeswoman said: "This programme starts with a £2 coin bearing sculptor John Bergdahl's powerful likeness of the instantly recognisable image of Lord Kitchener's iconic call to arms.
"This design was selected to mark the centenary of the start of the First World War because it has come to be strongly associated with the outbreak of the war and is recognised by much of the population.
"It is important to understand that this coin does not stand alone, but is part of a longer programme of coins that will commemorate the First World War."