Carwyn Jones offers talks to all sides in Welsh rugby row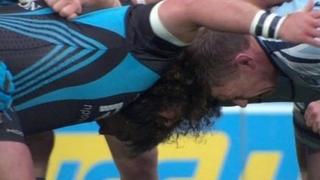 First Minister Carwyn Jones says he is prepared to talk in private to all the parties in the row which has cast Welsh rugby into crisis.
The Welsh Rugby Union (WRU) December deadline for Wales' four regions to sign a new legal agreement passed without any deal being reached.
The regions have raised the prospect of breaking away, with the WRU's response hinting that it could set up new teams.
Mr Jones said fans "want to see an end to it now".
The WRU gave the clubs a deadline of midnight on 31 December for a new partnership agreement to replace the current five-year contract which expires in June 2014.
Best interest
But the rugby regions - Cardiff Blues, Newport Gwent Dragons, Ospreys and Scarlets - believe the funding offered in the new deal is inadequate.
The decision not to sign the participation agreement could see them playing in alternative, non WRU-sanctioned, cross-border competitions.
Mr Jones has already written to the WRU and regions urging them to sort out their differences.
In an interview with BBC Wales he said he did not believe leagues and clubs outside Wales had the best interests of Welsh rugby at heart.
He said: "I can't get involved on a day-to-day basis. But if people want to talk to me privately, I'm perfectly happy to listen to them.
"At the end of the day, this is a discussion between different parties to get a sound and sustainable financial settlement.
"The union has to keep control of the game in Wales, there's no question about that.
"The regions need to be financially sustainable, that's understandable and so do the clubs for that matter."
Mr Jones added the "Pro 12" - the former Celtic League and the Magners League - needed to become more competitive.
Opening a Conservative-led debate in the Senedd on the future of Welsh rugby, shadow sports minister Mohammad Asghar called for an assembly inquiry into the dispute.
He said AMs could work as independent brokers to try to find a solution.
Sports Minister John Griffiths said it would be up to AMs and committee members to decide if an inquiry was appropriate.
Meanwhile, the chair of the assembly's Communities, Equality and Local Government Committee has invited the different parties to set out their positions.
Christine Chapman said she was responding to a question from Welsh Conservative leader Andrew RT Davies.
He supports the idea of the committee acting as an honest broker by producing an independent report into the best way of financing and running the national game.
In December, representatives of the four regions wrote to AMs lobbying for an independent inquiry into the funding and structure of top-level rugby in Wales.