Percy Jones' 1914 title began century of Wales' boxing wins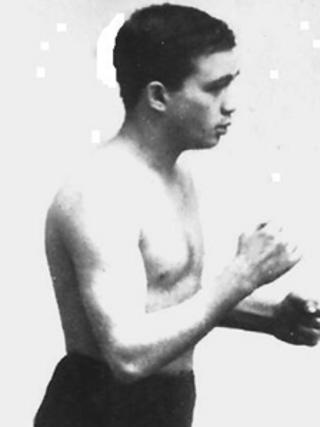 Exactly one hundred years ago the Rhondda Valley's Percy Jones ushered in a century of Welsh success when he became the first Welshman to lift a boxing world title.
The Porth flyweight had gone 41 professional bouts undefeated before getting his chance to fight for the belt against London's Bill Ladbury.
But less than a year later, and after just one defence of his crown, Jones's career was curtailed
He lost a leg on the Somme after he volunteered for action in World War One.
It was the lingering after-effects of a poison gas attack which would cut short his life on Christmas Day 1922, just a day before his 30th birthday.
Swansea University historian Dr Gerry Oram believes that the presence of sports star was crucial for keeping up spirits in the trenches.
'Bolster morale'
He said: "Sport became increasingly important to morale and studies have shown how football in particular displaced other activities. Boxing did also feature quite prominently amongst troop-initiated sports.
"Trench magazines produced by troops themselves often included items about sport - which was widely used by the army in particular as a means to bolster morale - and also noted deaths, often with sadness and a list of sporting achievements included.
"Local newspapers did often include photos of sportsmen or teams when they enlisted and noted their status, often subtly but still visibly, but it is probably the newspapers that emphasised the sports stars as a means to enhance recruitment more than the War Office."
Aptly enough, Jones was born on Boxing Day, 1892.
His story is a familiar one among Welsh boxers - escaping the poverty of a mining family by taking on all-comers in the boxing booths at fairs.
He turned professional aged 18 in 1911, and trained by 'peerless' Jim Driscoll, his whirlwind success of 39 wins and two draws in the next three years helped to bring the flyweight to global prominence.
20-round onslaught
Welsh boxing expert and retired referee Winford Jones said: "Percy fought at a time when the weight divisions were only just beginning to be standardised, and some bodies were awarding belts for every two pound interval.
"Percy created a lot of interest within the National Sporting Club [which controlled British boxing at the time] as many people were keen to see how his great boxing technique would stand up to a hard Cockney like Ladbury, who was famed for never taking a backward step."
Even though Percy tired towards the end of a 20-round onslaught, his neat footwork and crisp jab meant he was able to hold on for a convincing points decision - and the world title.
The victory also earned him the British and Commonwealth belt, but he would defend it only once.
He began to struggle with his weight, and after failing to make the eight-stone (50kg) limit for two title fights, he was forced to surrender the belts.
He had planned a comeback at bantam weight but the war intervened.
How good a champion Jones would have become always remain a mystery, as while serving as a sergeant with the Royal Welch Fusiliers, he was hit in the leg at the Battle of the Somme.
'Wouldn't give up'
Despite 30 operations, he eventually had the leg amputated two years later.
And in a cruel irony for the man who had struggled to keep his weight down while fighting in the ring, the effects of poison gas saw him gradually waste away.
One of his last public appearances was just a few months before his death in 1922 when, weighing just 4st 2lb (26kg), he turned out to support Cardiff's Nazareth House Orphanage.
Winford Jones believes Jones's last few months typified his lifelong courage.
"Inside the ring or out, he was a man who wouldn't give up. Even though he was so ill towards the end, there are accounts of him being carried to ringside to watch fights, wrapped in a blanket.
"Probably the story which sums him up best is that, when he sustained his leg injury, he refused a stretcher - leaving it for more severely wounded men - and dragged himself back to his trench."