Extreme weather in 2013 leads to an increase in RNLI rescues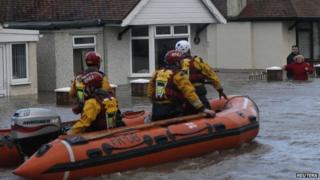 Floods and soaring temperatures led to a difficult year for lifeboat crews with a jump in the number of call-outs.
Lifeboats were launched 1,127 times (up 13%), with 1,155 people rescued (up 23%) and 49 lives saved, said the RNLI.
The busiest station was Rhyl in Denbighshire, which rescued 64 people, including those helped during the devastating floods in December.
The charity also said it was concerned about "numerous" calls to rescue people being swept out on inflatables.
But the RNLI said it was "extreme weather" that really put crews to the test.
"With soaring temperatures and floods no one can deny that 2013 was a challenging year due to the weather," said Colin Williams, RNLI regional operations manager.
"As well as the rise of lifeboat launches across the coast, the charity's flood rescue team also had an eventful year as they assisted other emergency services in December 2013, helping to evacuate 25 people and their pets from their flooded homes in Rhyl."
Other incidents included:
St Davids and Angle lifeboat crew helping a sinking vessel off Skomer with 48 passengers on board
Abersoch lifeboat crew rescuing two stranded fishermen off rocks
A dolphin being escorted back out to sea by Flint RNLI
Another problem identified by the charity was an increase in the popularity of pleasure craft.
"Please take the time to make vital checks before heading out to sea," said Mr Williams.
"Taking a step back to make these checks could be enough to save your life."
Stuart Thompson, south Wales RNLI lifeguard manager, said lifeguards were also kept busy last year, not only responding to incidents on the beach but offering advice to help prevent beachgoers from getting into danger.
One particular concern was the number of incidents in which people were swept out to sea on inflatables, he said.
"If the orange windsock is flying you'll see there is an offshore wind - this is a sign that it's not advisable to take an inflatable on the water," he added.
Whitmore Bay, Barry Island, was the busiest RNLI lifeguarded beach in 2013, with lifeguards responding to 221 incidents and helping 236 people.