Eirian Llwyd, artist and wife of Ieuan Wyn Jones, dies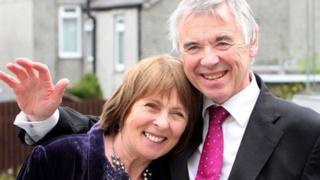 Eirian Llwyd, the artist and wife of former Plaid Cymru leader Ieuan Wyn Jones, has died after a short illness.
Ms Llwyd, who was 63 and born in Denbigh, died at Ysbyty Gwynedd hospital on Wednesday.
In a statement, her family said she had shown "extraordinary resilience" and gave "great passion" to her work.
The current Plaid Cymru leader Leanne Wood also paid tribute to the mother-of-three and said the family had lost someone "very dear".
A statement released by Ms Llwyd's family on Thursday read: "Eirian's contribution has been invaluable - she gave a lifetime of love to her friends and family, a lifetime of service to her nation and to humanity, and more recently she worked with great passion in the field of the arts.
"Eirian's faith was unshakeable and during her illness she displayed extraordinary resilience, facing all that came her way with grace and dignity.
"We came to know her better and her family and close friends were privileged to be in her company. We are better people because of her."
Ms Wood added: "Our sincere condolences are with the family who have lost a very dear wife, mother and grandmother."