The woe behind World War One song Pack Up Your Troubles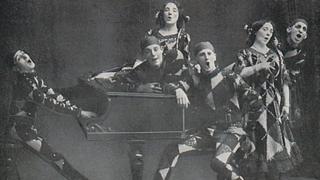 It became the stiff-upper-lip anthem of World War One and continues to earn royalties to this day.
Yet when brothers and music hall stars George and Felix Powell penned Pack Up Your Troubles in Your Old Kit Bag they thought it "piffle" and abandoned it.
But the tune was pulled from a drawer marked "duds" for a contest to find a marching tune for the troops - and won.
The St Asaph-born brothers said it was "the best laugh of our lives" but the laughing was not to last long.
But what made Pack Up Your Troubles such an overnight success?
Gareth Malone, the choirmaster behind The Military Wives' Christmas number 1 hit in 2011, explains how the Powells stumbled on such a winning formula.
"Whereas today we download songs or buy CDs, in those days sheet music was the most popular way of getting hold of a song.
"People would have to turn to their own talents to share music, so the sight and sound of people gathered around a piano for a sing-song would have been very familiar.
"So one reason for the song's success is its simplicity. It's written in G major, which can be played on a wide range of instruments relatively easily.
"The first line of the song is very direct and familiar to people because it mentions a kit bag - every soldier in the country would have had a kit bag.
"The second line is about a Lucifer, which is a match which they would have used to light their cigarettes.
"So these are words that any regular Tommy would immediately connect with."
The pair were educated at St Asaph Cathedral, where George was a chorister, and Felix is said to have been the organist by age 12.
This combination of George's lyrics and Felix's skill on a keyboard had already made them music hall favourites even before their most famous hit.
But Pack Up Your Troubles took them to another level of fame, with the song being translated into around a dozen languages - including German.
It is success which the brothers told reporters at the time they were at a loss to understand.
"A few months later a wire [telegram message] came up to us at the Grand Theatre, Birmingham - PACK UP YOUR TROUBLES FIRST PRIZE. It gave George and me the best laugh of our lives," recalled Felix in a newspaper article at the time.
"On the following Monday we put the song into our own show at Southampton in order to 'try it on the dog' so to speak.
"By the middle of the week we were as amused as we were delighted to hear thousands of troops singing it en route for the docks."
But with success came heartache and bitter creative differences between the brothers.
George had been a life-long pacifist, and as a conscientious objector he had reservations about his tune's use as a rallying cry from the outset.
Felix on the other hand immediately signed-up, and spent WW1 as a staff sergeant touring the trenches with their morale-boosting ditty.
But St Asaph councillor and Powell enthusiast Denise Hodgkinson said that in time even Felix became horrified by how the song was being used.
"The song was described as the most upbeat ever written, and Felix was a star at the height of music hall, in the same vein as Charlie Chaplin," she said.
"But gradually he became very upset that it was his tune which was accompanying thousands and thousands of men to their deaths."
Felix experienced a nervous breakdown in the trenches, and ended the war a broken man.
The brothers were however reconciled and moved to Sussex, where they ran a theatre and local newspaper.
But Felix found it difficult to write after that and, with mounting financial problems, he took his own life in 1942 on the stage of the theatre he ran with his brother.
Felix's grandson Aubrey Powell said: "Life for him after the success of the song was difficult. He became immensely successful and through the first world war it went on.
"But after the First World War his lot failed quite considerably - he never achieved the success of that song again.
"It is a bit like a trench pop star - a one-hit wonder that everybody knows - and that depressed him terribly.
"He wasn't recognised for his other work and that tragically finished in his suicide when he wrote 'I can't write anymore'."
Mr Powell added that the bitter irony was that if his grandfather had lived his financial worries would have ended, as World War Two once again made Pack Up Your Troubles a smash hit.
It was sad, he said, "for a man so talented to die for such very unnecessary reasons".
"He died really because he was in trouble financially, but actually Pack Up Your Troubles has made so much money and still does. It was so unnecessary and such a tragic event."
Felix and George's work inspired films by stars from Laurel and Hardy to Clark Gable, as well as a WW1 poem by Wilfred Owen.
And it lives on - most recently featuring in Eliza Doolittle's 2010 pop hit Pack Up, and in a global advertising campaign for a computer firm.