Stomach cancer survival rates up 20% with centralised treatment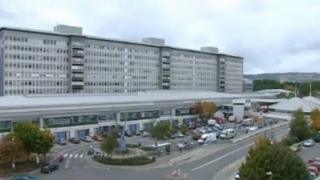 Doctors say the proportion of people surviving surgery for cancers of the stomach and oesophagus has increased since centralising treatment at a single hospital.
Patients in south east Wales have been sent to Cardiff's University Hospital of Wales for surgery since 2010 with survival rates improving by 20%.
It is now extending to patients in parts of mid and south west Wales.
The figures come as a debate is held about centralising more NHS services.
Cancers of the stomach and oesophagus are some of the most difficult to treat with survival rates commonly below 40%, and they tend to be more common in Wales than elsewhere in the UK.
However, in recent years the proportion of people surviving surgery has increased following a decision to centralise "upper GI" (gastrointestinal) operations at the Cardiff hospital.
Second opinion
Before 2010 all the large hospitals in south east Wales offered gastro-intestinal surgery.
Consultant surgeons mainly worked alone, some seeing only a handful of the most complicated cases a year.
But since then they have come together to work as a team at the University Hospital of Wales (UHW).
One of the leading clinicians, Prof Wyn Lewis said: "The ideal advantage of this is you get a built-in second opinion."
Patient Jan Skwarczek from Blackwood was diagnosed with cancer of the oesophagus three years ago aged 57 and was back on the road as a lorry driver in just a couple of months.
He said having the confidence of the two clinicians "lifted" him before treatment.
'Greater risk'
"As it worked out I had the best team in the world," he said.
"All your resources are pooled in one area. You get the best of everything and the results speak volumes."
Centralising this kind of surgery in Cardiff has led to a 20% increase in one-year survival rates and doctors predict five-year survival rate will similarly increase.
Figures show the proportion of patients who had complications after surgery dropped by 50%.
And there was also an eight-fold decrease in the number of cancelled operations, with the length of time patients had to stay in hospital reduced by three days.
More recently, Hywel Dda Local Health Board has also decided to send its upper GI patients in Carmarthenshire, Ceredigion and Pembrokeshire for surgery in Cardiff.
Elsewhere, however, there is some anxiety about plans to be announced on Thursday that would see other hospitals services such as specialist accident and emergency and neonatal care centralised at fewer sites in south Wales.
Critics argue patients could be put at greater risk if people have to travel further.
But to what extent are patients willing to travel further for better care?
"I think it depends on the illness," said Hilary Ryan, from Monmouth, who had surgery for oesophagus cancer last year.
"It is all about where you have the best treatment and the best prognosis.
"We have got to recognise that cancer is life-threatening - it is life or death decisions."