South Wales health boards consider specialist care shake-up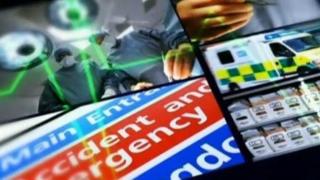 Health boards across south Wales are due to decide whether to go ahead with a major shake-up of the way some specialist hospital care is delivered.
It involves centralising high level emergency care - A&E - and specialist care for mothers, newborn babies and children, at fewer hospitals.
Four suggested options all include retaining the services in hospitals in Cardiff and Swansea.
Any decision would be scrutinised by five Community Health Councils (CHC).
The plans to centralise services follow concerns they are spread too thinly across the region.
However, some opponents warn patients could face greater risks if they have to travel further for treatment.
Since the start of 2012, senior managers and medical professionals from five health boards - Abertawe Bro Morgannwg, Cwm Taf, Cardiff and Vale, Aneurin Bevan and Powys - have been working together in the South Wales Programme (SWP) to develop proposals involving hospitals from Swansea to Newport.
Services considered include obstetrics, neonatal, paediatrics and A&E - although managers insist no individual A&E department would close.
The services are provided by eight hospitals, but health bosses claim the current system is unsustainable and patients could suffer.
THE OPTIONS
Last May, the SWP launched an eight-week public consultation on four proposed models - two of which involved centralising those services at five sites in south Wales and two which involved concentrating those services at four hospital sites.
In all of the suggested models, the services would be retained at University Hospital of Wales in Cardiff and Morriston Hospital in Swansea.
The options are:
Option 1: Four hospital sites (three plus Prince Charles Hospital in Merthyr Tydfil)
Option 2: Four hospital sites (three plus Royal Glamorgan Hospital in Llantrisant)
Option 3: Five hospital sites (three plus Prince Charles Hospital and Princess of Wales Hospital in Bridgend) - considered the "best fit" option
Option 4 Five hospital sites (three plus Royal Glamorgan and Prince Charles Hospital)
All four options include a plan to build a new hospital at Llanfrechfa Grange, near Cwmbran, which would incorporate the A&E, obstetric and paediatric services currently delivered at Nevill Hall hospital in Abergavenny and the Royal Gwent Hospital in Newport.
During the consultation, 50 public meetings were held and the SWP received 61,422 responses. Seven petitions were submitted, containing 6,367 signatures.
ARGUMENTS FOR
Supporters of hospital reconfiguration claim the changes are essential to make sure that patients get the best care, and say some units do not meet UK-wide professional standards.
If services are spread too thinly they claim doctors do not get to see enough patients to keep their skills up to scratch and problems can arise in attracting and providing adequate training to junior doctors.
Further, those who support change argue that as medicine gets more advanced, hospitals have no option but to specialise.
They say the model of care - developed in the 1950s centred around district general hospitals, providing similar services in each locality - is outdated.
They argue the changes would also help tackle other challenges such as an ageing population as well as the financial pressures.
ARGUMENTS AGAINST
Some respondents - most notably Plaid Cymru assembly members, MPs and councillors - opposed the South Wales Programme, arguing that it would be unnecessary if the Welsh government recruited extra doctors.
The Conservatives' assembly leader, Andrew RT Davies, said in his submission he was "convinced that these proposals would not be necessary given adequate expenditure by the Welsh government".
In total, 3.3% of respondents argued to maintain the status quo.
Several professional medical bodies claim the proposed changes do not go far enough to tackle the challenges the NHS faces.
THE WELSH GOVERNMENT
A spokesperson said: "The case for service change is well established and clinically supported.
"As we near the end of the process, the time has come to stop playing politics on this vital issue and allow health boards to reconfigure services to put them on a safe, sustainable footing for the future."
WHAT THE PROFESSIONAL BODIES SAY
In its submission, the Academy of Medical Royal Colleges Wales Committee argued all the proposed models could prove unsustainable in the long term.
It said a proper emergency and complex acute care service could not be sustained in more than three centres in south Wales.
The National Clinical Forum - a panel of clinical experts set up by the Welsh government - also argued it could be difficult to guarantee the long-term sustainability of four sites due to workforce and training issues, although it suggested four sites could be achievable with careful planning and creative recruitment programmes
The Royal College of Paediatrics and Child Health said it was very concerned about the sustainability of more than four inpatient units based on current staffing statistics
The Royal College of Physicians supports the move to specialist centres of excellence. However, it suggested the reorganisation plan - in looking at only four services - was too narrowly-focused and failed to consider a wider range of acute hospital services along with community care
Other respondents expressed concern about the capacity of the Welsh Ambulance Service to cope with lengthened journey times, while some were worried that centralising services on to fewer sites would lead to increased pressures on A&E departments and longer ambulance handover times.
Many respondents suggested public transport routes and timetables needed to be better aligned to hospital services and visiting times.
The majority of the public responses supported a five-site model.
WHAT HAPPENS NOW?
The SWP's final recommendation will be revealed on Thursday.
The health boards will then meet to decide whether to back the plan. It is unclear what would happen if a health board rejected the plan put forward by the SWP, but if that happens, BBC Wales understands the whole process of NHS reorganisation in south Wales could be jeopardised.
Even if all health boards agree, the plans would be scrutinised further by the five south Wales CHCs.
If any CHC objects, the proposals would be sent to the Welsh government for a final decision.
BBC Wales understands an appeal is likely.
It is also understood that, if health boards back the reorganisation plans, they will also approve a mechanism to allow the SWP group to be reconvened to make future decisions about the provision of other services.
This would allow the health boards once again to work together to plan services across their boundaries.
Health managers have stressed the final decision will not be based solely on the consultation responses.
In November Paul Hollard, programme director for the SWP, said: "It is important the public understands the consultation responses on their own will not determine the outcome of the South Wales Programme.
"The responses, together with the evidence gathered to support the consultation, the equality impact assessment and further work carried out in response to issues raised during the consultation, will be used by the health boards and the community health councils to reach a decision."