First chaplain for Monmouthshire and Brecon canal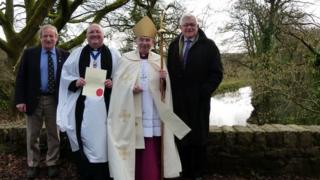 Canals stretching from Brecon to Newport have their very first chaplain.
The Rev John Collier is the first to take the post with the Monmouthshire, Brecon and Abergavenny Canals Trust.
He was appointed by the Bishop of Monmouth, the Right Reverend Richard Pain, at a service of thanksgiving.
Mr Collier was born close to the canal in Griffithstown, near Pontypool, and has been involved in several nearby churches, including St Illtud's, Mamhilad.
Mr Collier said he hoped to help restore the canal's importance to the communities along its route.
Popular with families, walkers and cyclists, the Monmouthshire and Brecon Canal's hedgerows and reed beds are a haven for animals, and fish, amphibians and insects live in and around the water.
Voted the most-visited attraction in a survey by the Brecon Beacons National Park, the canal has a few churches dotted next to or near the waterway.
But it has never had its own curate until now.
'Sanctuary'
Mr Collier said: "I see the co-operation between the trust and the church to this end to be important, and I am very pleased to accept the role of chaplain to strengthen the bond between us, and to show that our church is an active part of the community in which we live and worship."
Bishop Pain said he was "thrilled" Mr Collier was taking on the role.
"As an active parish priest he has already built up community links in the area and his chaplaincy will remind us of the importance of tourism in Monmouthshire and the fruitful partnership of the church," he said.
"People need to relax, and the tranquil waterways of our canals provides an opportunity to reflect and find space.
"The church offers a similar sanctuary in life and I hope that locals and visitors alike will also discover the peace of our ancient and beautiful churches."