Peter Alan estate agency hails 'second-best ever year'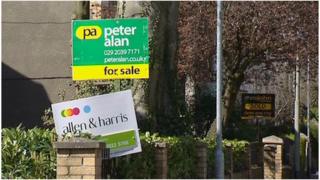 The biggest chain of estate agents in Wales said it had recorded its second-best ever year in business.
Peter Alan, owned by the Principality Building Society, had a 17% rise in property sales in 2013.
It said the results, the best since the housing market peaked in 2006, were further evidence that the housing market was recovering.
This month the Principality said its pre-tax profits were up £3m to £28.7m, a rise of nearly 12% compared to 2012.
The building society - the largest in Wales and the sixth biggest UK-wide - said its overall mortgage lending was up by 10.7% last year, taking it to an all-time high of £1.1bn.
It said the number of sales in 2013 rose 5%, bucking the UK trend.
The figures were partly driven by a 64% increase in sales at its specialist division PA Black, which sells more expensive homes.
The firm said staff numbers rose 10% during the year to 230 across 26 branches, and were now at the level they were before the economic downturn.
This included buying two lettings agencies, Thomas George and Mead, which helped the organisation to a 62% rise in lettings during the year.
Peter Alan has branches in Cardiff, Newport, Swansea and the south Wales valleys as well as one branch in Wrexham.
Managing director Andrew Barry said 2013 had been the second most successful year in Peter Alan's 48-year history.
He said: "This increase is testament to growing consumer confidence in the housing market and to the work undertaken behind the scenes to prepare the business for this upturn which has seen significant investment over the last three years."
Principality Building Society group chief executive officer Graeme Yorston said: "While it is encouraging to see house sales and mortgage products performing so well at present, we approach the future with a sense of cautious optimism as there remain a number of hurdles which the UK economy will need to overcome."