Caerphilly, Merthyr, RCT and Wrexham agree council tax rises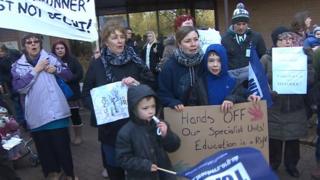 Increases of up to 4.5% in council tax and cuts in services have been approved by four Welsh councils.
At meetings on Wednesday, Caerphilly approved plans for a council tax rise of 3.9% and Wrexham a lower 3% rise.
Merthyr Tydfil council agreed a 3.95% council tax hike and Rhondda Cynon Taf agreed an increase of 4.5%.
Councils in Wales have had their funding from the Welsh government cut, and many are looking to increases in council tax to meet the deficit.
Caerphilly council must cut its budget by £14.53m this year, and more than £28m during the next three years.
Proposals which include increasing paperwork charges and reducing the frequency of cutting grass in civic areas were also agreed.
Commenting on the 3.9% council tax increase, deputy council leader Keith Reynolds said: "While admittedly this increase is higher that we would have liked, it is important to note that it still makes Caerphilly's council tax increase among the lowest in Wales."
Wrexham council needs to save nearly £14m this year and £45m over five years.
It has agreed a council tax increase of 3%, and plans to save money by closing some community centres, libraries and the Plas Madoc leisure centre and Waterworld - which have led to protests.
Plas Madoc is set to close by the end of April.
The council's executive board meet on 11 March to decide if the time for interested parties to consider taking the venue over as a social enterprise should be extended from June to October.
Rhondda Cynon Taf has said it needs to save £70m during four years. There have already been protests against plans to increase the age the youngest children start school, close libraries and shut day care centres for the elderly.
The council has also consulted on a further round of cuts, which include closing a theatre, museum, bus routes and switching off street lights.
An increase of 4.5% in council tax has been approved.
Merthyr Tydfil council needs to save £15.3m over four years.
It has decided on an increase of 3.95% in council tax. The budget plans include closing an elderly people's centre and reducing library opening hours.
The council meeting on Wednesday deferred a decision on controversial proposals to scrap free transport for sixth-form pupils.
The plan to remove post-16 free home-to-school and free home-to-college transport had been condemned by parents and pupils at Ysgol Gyfun Rhydywaun who claimed it would undermine Welsh-medium education.
Scrapping the post-16 transport would have saved £115,000 per year but there will now be a period of further consultation before any action is taken.
Cardiff council is meeting to discuss its budget and a 3.97% increase in council tax on Thursday.
Mandatory services
On Tuesday, Powys council shelved proposals for a £20m package of savings and 3.95% hike in council tax.
Plans to cut special education services and to raise day care centre charges were thrown out during a full council meeting in Llandrindod Wells which was disrupted by protesters. The decision has now been adjourned until next week.
Local government expert Dr Marlene Davies, Associate of the University of South Wales, told BBC Wales: "Councils have got mandatory services that they have to provide - education is a key one, social services is another - there is lots of legislation out there that requires these local government services.
"Usually a huge percentage is spent on these mandatory services, so there is only about 10% of their budgets where they can make savings.
"They can't even fall back on using their reserves as that is only a short-term fix. You need that money for contingency plans, things that happen like the floods or storm damage."
A Welsh government spokesperson said: "In these challenging financial times, councils need to be taking determined action to ensure services are maintained and improved while also giving people value for money from their council tax.
"We are already supporting councils to make savings, for example the National Procurement Service, which went live in November and is expected to generate savings of up to £25m each year.
"Funding is also available through the Invest to Save and the Regional Collaboration Funds, which help public services to work with each other to transform services by meeting upfront costs which could otherwise be a barrier."