Lake Vyrnwy and Llyn Clywedog flooding fears sparks review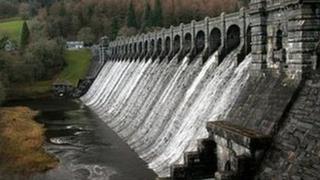 The release of water from two Powys reservoirs during periods of heavy rain is to be reviewed over fears it is contributing to severe flooding.
Natural Resources Wales (NRW) has agreed to review its procedures at Lake Vyrnwy in north Powys and Llyn Clywedog near Llanidloes.
The move follows complaints from farmers that the release of water was not being properly managed.
NRW said it had listened to people's concerns and was launching a review.
Wales has been battered by heavy rain and storms in recent months, leaving farmland and communities under water.
Farmers in Powys say this has been compounded by the release of water from the two reservoirs.
And Montgomeryshire Assembly Member Russell George said water release procedures at Lake Vyrnwy had not been updated in nearly 25 years, despite changes in weather patterns.
Mr George recently held a meeting with NRW, Severn Trent, farming unions, councillors and landowners in the Severn and Vyrnwy valleys following concerns expressed by farmers.
"Landowners downstream of both reservoirs have raised concerns with me in recent years about the impact of flooding," said Conservative AM Mr George.
"There has been concern that a lack of proper management of water discharges from the reservoirs has resulted in more severe flooding in the Severn and Vyrnwy valleys at times of heavy rain and storms.
"This has had a detrimental affect on agricultural land, crops and livestock and is costing the farming industry and landowners huge amounts in lost revenue, damage to equipment and land."
Impact
"I have formally written to Natural Resources Wales and have asked for a review of processes and procedures for water releases and a public consultation."
An NRW spokesperson said: "Following an exceptionally wet winter, we understand that farmers and landowners are concerned about the impact of flooding on their land and their businesses.
"At the meeting, we listened to their concerns and have agreed to review the procedures for drawing-down water from Lake Vyrnwy and Llyn Clywedog.
"While both reservoirs were built for the supply of drinking water, they are also operated during winter months to reduce the risk of flooding downstream.
"As part of the review we will identify whether adjustments to our operation of these reservoirs could further reduce the impact of flooding to the area."
NRW said the review would also consulting landowners, farmers and councillors.
Lake Vyrnwy was opened in the late 19th Century and was built to supply Liverpool with water. Work on Llyn Clywedog finished in 1967 and it supplies water to Birmingham and other areas in the Midlands.
The water company Severn Trent owns both the Powys reservoirs but NRW is responsible for the water.