Horizons new music talent search launched by BBC Wales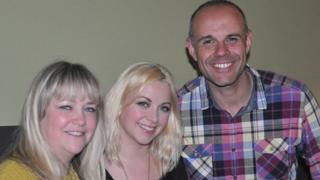 A search for new musical talent with the promise of recording sessions and BBC airtime has been launched.
BBC Cymru Wales and the Arts Council of Wales have joined forces to look for 12 new artists to support over the next year as part of the Horizons scheme.
It aims to "showcase the most exciting unsigned acts with the potential to make a real breakthrough in Wales and beyond".
The acts will be picked by a panel of music industry and radio music experts.
Horizons has won the support of singer Charlotte Church, who told BBC Wales: "I think it's great there's been an initiative to do this sort of thing and aid Welsh artists.
"I've said for a while I find it sad everyone has to get to London to do this sort of thing - find a producer, have a photo shoot.
"There's lots of creative people in Wales and you can have the infrastructure here to do that, it's totally doable.
"I think the most important thing about it is showcasing great Welsh talent nationally, and hopefully internationally."
She added that she hoped the chosen acts would include a range of ages, as "over-25s nowadays get totally ignored because youth is king and everyone is a capitalist and youth makes money".
The chosen acts - working in English or Welsh - will be announced on 25 April on BBC Radio Wales and BBC Radio Cymru at the Focus Wales festival in Wrexham.
The acts chosen will benefit from:
Specially programmed BBC radio events, sessions and playlists
Direct contact with a BBC producer overseeing the project
A recording session at the BBC's Maida Vale studios in London
Promotional support including a video and a professional photo-shoot
Mentoring via courses
National and international musical opportunities
Opportunities to play at BBC Cymru Wales events through the year
Nominations through the BBC Introducing new music brand to play at major events across the UK
Steve Austins, editor of BBC Radio Wales, said he was looking forward to hearing "fresh new talent" on the air as part of the two-year project.
"The station will be giving the artists plenty of support and I'm sure our listeners will be thrilled to hear new music breaking through with these artists over the year," he said.
Betsan Powys, BBC Radio Cymru editor of programmes, said events such as the Womex world music showcase and trade fair held in Cardiff last year had been positive for Welsh artists, and Horizons had the "potential to build on that".
"Let's see more artists from Wales, with our support, become internationally recognised," she said.
Lisa Matthews of the Arts Council of Wales added: "As well as mentoring the 12 acts, across the year we hope to create more opportunities for audiences to hear the excellent music talent that we create in Wales."
Musicians and bands are invited to send in a recording of their original work, a photograph and a short biography.
The closing date for applications is 31 March with full details on the Horizons website.