Aberystwyth's storm-hit prom to be repaired before Easter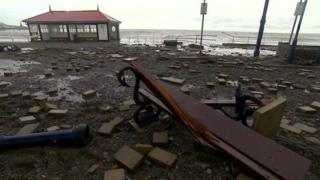 Aberystwyth's storm-hit promenade will be repaired before the Easter holidays, Ceredigion council has said.
More than £500,000 has already been spent on repairs to the seafront and nearby beaches which were battered by huge waves and strong winds in January and February.
Paving stones were ripped up and the Grade II-listed seafront shelter collapsed during the storms.
The council said it was confident work would be completed in the coming weeks.
Meanwhile, visitors have been making the most of the recent fine weather with seaside towns of Aberystwyth and New Quay and the smaller resorts of Llangrannog and Tresaith proving very popular, the authority said.
A petrified forest uncovered by the storms at Borth is also becoming a "must see" attraction.
A spokesman for Ceredigion council said work had been "going on apace" to ensure any necessary work to Aberystwyth promenade and Ceredigion's beaches was completed before Easter.
Beaches are being reshaped where necessary to create slopes to minimise the impact of large waves and damaged equipment is being replaced.
"A number of Ceredigion's most popular beaches have been submitted for 2014 coastal awards including blue flags, seaside and green coast awards and we are confident that any necessary work following the storms will have been completed well before the start of the bathing season," a spokesman added.
The total cost of repairing the damage is estimated at more than £1.5m.
In January the Welsh government announced the council would receive £560,000 towards the costs.