Ceredigion marketing funding aims to boost business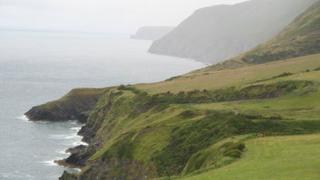 A spring campaign to promote the message that tourism operators are back in business is being launched by Ceredigion council.
The move comes after Aberystwyth hoteliers had called on the council to promote businesses suffering from dwindling visitor numbers.
The town's promenade was battered by huge waves and strong winds in January and February.
Hoteliers claim visitors still think the town is not "open for business".
The council has welcomed the £20,000 marketing boost from the Welsh government and Visit Wales
It is part of the £473,000 recovery fund from the Welsh government to help the council repair damage and deal with the aftermath of winter storms.
The campaign, 'Discover Ceredigion and Cardigan Bay', will see advertisements targeting visitors from Wales, the English Midlands and beyond.
It will also complement Visit Wales' £4m marketing campaign 'Have you packed for Wales?' currently under way across the UK.
Huw Roberts, owner of Gwesty Cymru Hotel and Restaurant on Aberystwyth seafront, said takings had dropped between 10% and 20% since the start of the year.
He said: "I welcome the move to invest in marketing Aberystwyth as a tourism destination."
Repairing the damage
Richard Griffiths runs the Richmond Hotel on Aberystwyth seafront, which was damaged by the storms in January.
He said he looked forward to seeing the results of the campaign for businesses in Aberystwyth and the Ceredigion coast.
The total cost of repairing the damage in Ceredigion is estimated at more than £1.5m.
Paving stones were ripped up and a Grade II-listed seafront shelter collapsed on Aberystwyth promenade during the storms.
More than £500,000 has already been spent on repairs to Aberystwyth seafront and nearby beaches.
The council said it aimed to repair Aberystwyth promenade before the Easter holidays in mid April.
Gareth Lloyd, Ceredigion cabinet member for tourism, said: "Working closely with local tourism businesses, we expect see a real step change in promotions for Ceredigion over the coming months to boost tourism and put the county firmly on the map in 2014."