BBC Wales investigates Wizards versus Aliens set fire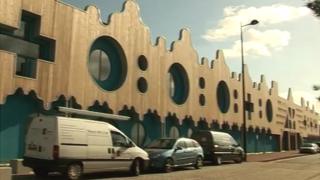 BBC Wales is investigating a small fire on the set of the children's drama Wizards vs Aliens at the Roath Lock studio in Cardiff Bay.
The alarm was raised on Tuesday night shortly after 2115 GMT but the fire was out as fire crews arrived at the scene.
A BBC Wales spokesperson said there were no injuries but minor damage had been caused to a chamber set.
"We are currently investigating the cause of the fire," said the spokesperson.
Roath Lock was opened in 2012 by First Minister Carwyn Jones.
It provides a permanent home to three flagship dramas - Doctor Who, Casualty and Pobol y Cwm.
The studios form the BBC's largest drama production centre in the UK.