Mild winter brings RSPB Big Garden Birdwatch changes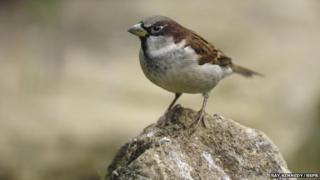 The mild winter may have helped ring the changes in the results of this year's RSPB Big Garden Birdwatch in Wales.
Many of the popular garden birds were recorded in lower numbers due to the warmer weather conditions.
RSPB Cymru said the birds were able to feed in the countryside rather than seeking domestic gardens.
More than 20,000 people in Wales took part in this year's survey in which the house sparrow came out top.
The biggest climber up the rankings was the wren which reached the top 20, while the biggest faller was the long-tailed tit, which dropped from eight to number 12.
Goldfinches, which 10 years ago were in 14th position, climbed two places to number seven. Scientists believe that the increase in people providing food such as nyjer seed and sunflower hearts in gardens may have contributed to this species' steady rise up the rankings.
However, RSPB Cymru said the continuing decline of some garden birds was of greater concern.
Numbers of starlings visiting gardens in winter have dropped by 84% since the birdwatch began in 1979, mirroring their decline as a breeding bird.
But there was slightly better news for the house sparrow, whose decline appears to have slowed, and it remains the most commonly seen bird in Welsh gardens.
Dana Thomas from RSPB Cymru said: "2014 was always going to be an interesting Big Garden Birdwatch as the winter has been so mild, and we wondered if it would have a significant impact on garden birds."
They were out in the countryside finding natural food instead, she said.
"The good news is that this may mean we have more birds in our gardens in the coming breeding season because more have survived the mild winter and food was plentiful," added Ms Thomas.