S4C aims to launch HD channel on satellite TV by 2016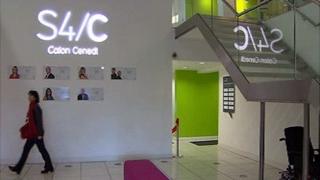 S4C's chief executive Ian Jones has said he hopes it can launch a high definition (HD) service on satellite television by 2016.
S4C's previous HD channel, S4C Clirlun, was broadcast on Freeview but scrapped in 2012 to save £1.5m a year.
Mr Jones warned that only broadcasting in standard definition (SD) would look "sub-standard" in the future.
He was giving evidence to assembly members conducting an inquiry into the media in Wales, on Thursday.
It is understood the cost of launching an HD service on satellite would be around £1m a year, and that the plans would depend on the broadcaster being able to find the money to pay for it.
Mr Jones told the AMs: "We have to get back on HD at some point, whether it's in two years, as we'd like to do, or whether it's beyond that.
Funding questions
"Because at some point everybody will have have HD and S4C's SD broadcasts will look sub-standard compared to the HD broadcasters."
Liberal Democrat AM Peter Black asked about a recommendation by the Silk Commission on Welsh devolution that responsibility for S4C, including its funding, should be transferred from the UK government to Welsh ministers.
S4C chairman Huw Jones said it was "a matter for policy makers to decide where accountability should lie".
He said the key question was "how does one secure sufficient funding to allow S4C to provide the high quality service that Welsh speakers and the people of Wales in general deserve".
S4C used to receive most of its funding from the UK Department for Culture, Media and Sport (DCMS), but is now mainly funded from the BBC licence fee.
'Step forward'
Asked by Plaid Cymru's Rhodri Glyn Thomas whether S4C had any concerns about the relationship with the BBC, Huw Jones replied that the "fundamental concern is that the agreement with the BBC comes to an end in 2017, so it is crucially important that there should be a clear understanding as to what is to happen post 2017".
When pressed he added that "the ability of the government in Westminster to create a situation where the funding of S4C through the licence fee is sufficient is perhaps stronger than the ability currently held by the Welsh government to ensure that".
"That is one of the reasons that we are eager for the discussion on the future funding of S4C and the funding provided through the licence fee should be seen in more general terms in a debate on the charter renewal of the BBC," he said.
Two weeks ago, S4C announced plans to move its Cardiff headquarters to Carmarthen as "a major step forward" for its plans to boost the economy and Welsh language in another part of Wales.