Maternal smoking: Call for midwives to boost anti-tobacco message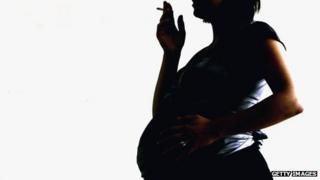 Almost 12,000 babies in Wales are at risk from their mothers' smoking during pregnancy, claims a health charity.
Action on Smoking and Health (ASH) Wales said Wales still had the highest proportion of pregnant smokers anywhere in the UK.
It said up to 33% of women in Wales smoke at some point during their pregnancy, while the UK average is 26%.
ASH Wales wants more midwives and health visitors to have anti-smoking lessons as part of their training.
Smoking in pregnancy can lead to an increased risk of premature birth and cot death.
It also increases by one-third the risk of stillbirth or death within the first week of a baby's life, said the charity.
Although most women who smoke during pregnancy will go on to have a healthy baby, maternal smoking can cause considerable damage to the unborn child.
The charity claimed that figures showed the risk for having a baby with missing or deformed limbs or a cleft lip is more than 25% higher for smokers.
ASH Wales said maternal smoking exposed 11,864 babies in the womb to harm from tobacco each year.
It said as Mother's Day approached on Sunday, it was calling for Wales' midwives and health visitors to have training to help more women give up smoking.
It highlighted the work of MAMSS (Models for Access to Maternal Smoking Cessation Support), a pilot project at four of Wales' health boards, which uses maternity staff to engage with pregnant women with the aim of encouraging them to quit.
Samantha Paul, from Bridgend, in the Abertawe Bro Morgannwg University Health Board area, said she was helped to give up smoking when she was pregnant with her second child.
She said: "I was smoking between 10 and 20 a day and knew I had to give up, but I couldn't do it on my own.
"The help I got from my midwife Julie was brilliant. She came to the house and really helped me through it.
"She told me that we would set a date to quit and helped me prepare all week for that day. I got an inhaler and patches and within two days I'd quit and I haven't smoked since, but she still calls me up to see how I'm doing.
"The readings on the carbon monoxide monitor used to scare me because of what was going through to the baby - the reading was 18 before but is now down to 2. Now I can't even stand the smell of smoke."
ASH Wales chief executive Elen de Lacy said: "It is a sad fact that Wales continues to have the highest rate of smoking in pregnancy in the whole of the UK.
"Giving up smoking is hard on its own but with the added pressures of having a baby it is doubly challenging, which is why extra support is vital for pregnant women to help them give up."