'Reasonable punishment' child smacking defence must go, academics say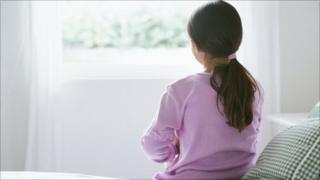 Senior academics are calling on Welsh government ministers to axe the "reasonable punishment" defence in child smacking.
Academics for Equal Protection say they want Wales to become the first part of the UK to ban the hitting of children.
The Welsh government said such a law change would require extensive consultation and education.
The 21-strong group intends lobbying ministers at the weekend Labour conference in Llandudno.
Its members, who all work in child-related fields, say they want to "strengthen the resolve" of ministers on the issue of treating adults the same as children in the eyes of the law when it comes to physical assault.
Welsh Labour believes the assembly has the power to change the law, but had ruled out doing so before the 2016 election fearing a legal challenge.
Free vote
But Deputy Social Services Minister Gwenda Thomas promised the issue would be considered as part of future legislation.
Her promise came after a vote in the Senedd in January saw a Plaid Cymru amendment to the Social Services and Well-being Bill in favour of a ban defeated by 39 votes to 14, after Labour AMs were ordered to vote against it.
A smacking ban has widespread support across the assembly chamber and would be expected to achieve a comfortable majority in a free vote.
Academics for Equal Protection say the law which allows parents and some carers to claim a defence of "reasonable punishment" when disciplining children needs to be simplified.
The academics - who all work or live in Wales - have expertise in children's social care, education, community paediatrics, family law and criminology and they represent some of the most senior members of those disciplines in Wales.
'Not acceptable'
They argue that the weight of international research evidence makes the case for a legislative change compelling, bringing Wales in line with 36 other countries which have banned all forms of physical punishment of children.
Dr Sally Holland, from Cardiff University's School of Social Sciences, is a founder member of the non-party political group and is speaking at a fringe meeting at the Welsh Labour conference.
She said: "We were prompted to speak by the deputy minister's commitment - we feel it is important to get on and to do it quickly.
"The academic evidence - hundreds of studies - is very clear, smacking is not the best way to get children to behave.
"Children who are smacked are not the best behaved.
"As an important public health measure, the physical punishment of children is not acceptable. Children should have the same defence in law as adults.
"This will not lead to the widespread criminalisation of parents. It's not introducing a new crime - it is merely saying that "reasonable punishment" should not be a defence."
A Welsh government spokesperson said: "Any such change to the law would require extensive consultation and an education programme before legislation could be brought forward.
"We voted against an amendment to the Social Services and Well-being (Wales) Bill on the physical punishment of children because a change of this nature, without appropriate public consultation, would not be the right thing to do.
"We remain committed to continue promoting positive parenting and disciplinary alternatives to physical punishment."