Overseas visitors to Wales down 23%, prof Annette Pritchard says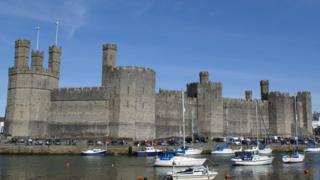 The number of overseas tourists visiting Wales has fallen nearly 23% in 10 years, an expert has claimed.
Prof Annette Pritchard, director of the Welsh Centre for Tourism Research, said 850,000 visit Wales annually compared to 1.1 million a decade ago.
Speaking to MPs in the Welsh Affairs Select Committee, she said Wales was "Britain's best kept secret abroad".
Visit Wales, which promotes Wales on behalf of the welsh government, has been asked to comment.
Prof Pritchard was giving evidence to the committee as part of its inquiry into how to market Wales and how the country is perceived globally.
"Wales is in a very difficult position," Prof Pritchard told MPs.
"It is Britain's best kept secret abroad... Wales has a very low brand visibility and low product visibility and there's the lack of connectivity, so Wales has a very difficult job to make itself heard."
She said Wales' marketing is focused on the domestic market and so "it is very difficult to find the overseas message".
She added: "The worrying thing about the overseas market is that it is declining in Wales.
"It has gone from a high point of 1.1 million visitors and it's currently at about 850,000 and that's happened over a 10-year period."
She said there was a similar trend in all parts of the UK outside London.
Prof Pritchard criticised the work of Visit Britain, saying: "I think the marketing, the campaign in getting people to Wales, that's not happening very well... Visit Britain targets have changed - they want to get as many tourists as possible and the easy way to do that is target London."
Dr Jerry Hunter, of Bangor University, said more visitors were needed, as well a focus on getting them to spend more.
Dr Hunter said more could be done to publicise events.
He added: "The Urdd Eisteddfod is the largest youth festival in Europe but the Chelsea flower show gets more attention."
He also said the BBC and S4C could do more to promote Wales internationally by ensuring award-winning dramas and documentaries can be marketed globally.
Dr Andrew Crawley, of Cardiff Business School, said disbanding the Welsh Development Agency had been a problem, because it had "huge brand kudos".
He was asked whether the Wales Office and the Welsh government should do joint trade missions.
"It is a nice idea" he said, "but I know there is politics at play. From my point of view, with limited resources you have to co-ordinate.
"I think the Secretary of State [for Wales] has a role to play but it must be coordinated with the Welsh government. If sending joint trade missions abroad then put politics to one side and sing from the same hymn sheet."
A Welsh government spokesman said: "The GB domestic market is the primary market for Wales and accounts for 92% of all staying visitors, this market will remain the focus of the tourism strategy for Wales, which aims to grow tourism in Wales by 10% by 2020.
"In order to maximise the benefit of marketing Wales internationally, Visit Wales is targeting three international markets which have identified strong potential for growth, these are Ireland, Germany and the USA. Visit Wales works closely with VisitBritain through its international network of offices to deliver strong results for Wales."