Asian restaurants 'unfairly' targeted on immigration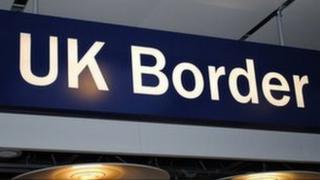 Immigration officials are unfairly detaining staff in Asian restaurants at busy times, a Welsh Labour MP has claimed.
Nia Griffith said restaurants were targeted on Friday and Saturday nights, frightening customers and causing owners to lose money and custom.
But she acknowledged immigration needed to be controlled.
The Home Office said raids were intelligence-led and timed to maximise their effectiveness.
During a meeting at the House of Commons, Asian restaurant owners told Welsh MPs the action of immigration officers was having a damaging impact on their businesses.
Ana Miah, whose restaurant in Cardiff was raided last year said: "The raids are performed in a very commando style.
"The officers come in, shut the doors, gather the staff into one room and the restaurant is basically shut down and we're not allowed to answer the phone or even speak to customers waiting outside," she said.
Llanelli MP Nia Griffith said some operations led by immigration enforcement officers were "nothing short of disgraceful" and businesses were suffering due to "heavy handed tactics".
"Not only does it mean a financial loss for that evening but it also has an impact on the reputation of the restaurants," she said.
"In some cases there is no substantive ground for their action and so it is a waste of taxpayers's money," she added.
Tough action
Cardiff South and Penarth MP Stephen Doughty said the Asian restaurant community felt they were being targeted, while Newport East MP Jessica Morden claimed shops were also getting caught up in this issue.
Home Office Minister Karen Bradley said she would make no apology for enforcing immigration law and said the government would continue to take tough enforcement action.
"I recognise the disturbance and I sympathise with the concerns raised but the busy times are also when we are able to maximise the likelihood of achieving a successful outcome," she said.
A Home Office spokesman said enforcement visits were intelligence-led and timed to maximise their effectiveness.
"Of the 7,900 carried out across the UK last year, we made well over 7,000 arrests. That shows that our actions are warranted and successful," the spokesman added.