Small firms in Wales 'skilled' but face barriers, says FSB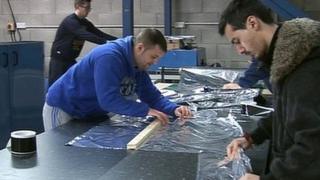 Small business owners in Wales are better educated and keener to invest in workers' skills than firms across the UK, a trade group has claimed.
The Federation of Small Businesses said its survey of members in Wales proved their commitment to training.
About 44% of FSB members in Wales have degrees compared to 41% across the UK, while 28% plan to increase staff training compared to 25% across the UK.
But the FSB said Welsh firms found it harder than others to borrow cash.
The survey questioned 500 of the FSB's 10,000 members in Wales.
Apprenticeships
Dr Rachel Bowen, FSB Wales policy manager, said the findings showed the commitment of owners of small firms to boosting their own skills and those of their employees.
"The findings of this latest survey of our members really do shatter any stereotypes that still exist about small business owners not being keen to invest in skills," she said.
"Indeed, our findings suggest that small business owners in Wales are the best-educated in the UK."
"We have seen a marked increase in those Welsh business owners educated to degree level or higher in the past two years, and it is clear that small businesses are really embracing the up-skilling agenda.
"This is particularly the case in apprenticeships, where schemes such as the Young Recruits Programme have lowered the barriers for small businesses, meaning a higher proportion of FSB members in Wales now offer apprenticeships than in the UK as a whole," she added.
The survey also found:
67% of firms were targeting growth in the coming year
A fifth were aiming for fast growth of more than 20%
51% of companies said the state of the economy was a barrier to growth
42% cited cash flow as a problem, while 30% said they were worried about energy costs
22% of businesses in Wales found it difficult to borrow cash compared with 18% of firms across the UK
20% said a lack of fast and reliable broadband access was a problem
FSB Wales policy unit chairwoman Janet Jones said despite the "great many positives" to be taken from the survey, action was needed to tackle the factors which "continue to hold small firms back".
"If we can tackle some of the barriers that exist, it is clear that small businesses increasingly have the skills and desire to make the most of the opportunities that are out there to grow our economy, and create jobs and wealth in our communities," she said.