Water meters proposed for Welsh homes to reduce waste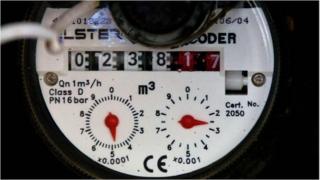 Water meters could be introduced in all homes in order to reduce waste, under plans looked at by Welsh ministers.
The idea is part of a consultation launched on Monday on how best to manage Wales' water at a time of rising population and a more volatile climate.
Ministers say they would ensure those on low incomes would not face higher bills if the measure is passed.
Natural Resources Minister Alun Davies said water was "not a limitless resource", and needed managing.
The consultation document also looks at ideas to improve drainage in urban areas to reduce the risk of flooding.
'Natural asset'
Earlier this year the cross-party Silk Commission called for the devolution of all aspects of water policy to Cardiff Bay, an idea backed by the Welsh government.
Mr Davies said: "Water is one of our greatest natural assets, providing the basis for our economic development, our tourism sector, our energy supply and our general health and well being.
"However, water is not a limitless resource that can be easily replenished. It needs careful management to ensure the long term needs of our environment, people and economy can be met.
"Figures show that on average we are all using nearly 50% more water per person than we were 25 years ago and we know that our growing population, and the challenges presented by climate change, are putting our water supplies under ever increasing pressure.
"This means we need to manage our water supply sustainably, in a way that encourages us to use it more efficiently and in a way that supports communities and businesses, promotes green growth and protects and enhances our natural resources."