Joanne Mjadzelics to face trial after Ian Watkins probe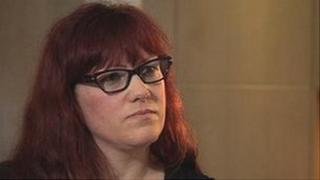 A woman charged following the police investigation into Lostprophets' singer Ian Watkins will face trial later this year.
Joanne Mjadzelics, 38, faces six charges of possessing and distributing indecent images of children and one count of encouraging another to distribute an indecent image.
Miss Mjadzelics, from Doncaster, appeared at Newport Crown Court via videolink on Monday.
The trial was set for 8 September.
Singer Watkins, 36, was jailed last year after admitting the attempted rape and sexual assault of a child under 13, and a string of other serious offences.