Welsh government 'failing' food industry as 650 jobs axed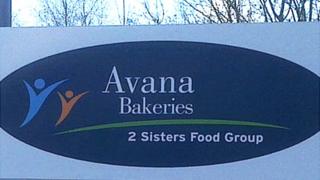 A trade group has accused the Welsh government of failing to do enough to support the food industry in Wales.
The Federation of Small Businesses (FSB) made the claim as one of the country's biggest employers confirmed it was cutting nearly 650 jobs.
Avana Bakeries, in Rogerstone, Newport, lost a multi-million pound cake contract with Marks & Spencer and will close this summer.
The Welsh government said the FSB's claims were "wholly inaccurate".
The bakery's owners, 2 Sisters Food Group, launched a 45-day consultation period with staff after announcing it had lost the Marks & Spencer contract, which made up 85% of what the Avana bakery produces.
'Cold comfort'
Following the news of the job losses, Iestyn Davies, head of external affairs at FSB Wales, said: "The Welsh government has failed to support this key industry and the absence of specific support or enterprise initiative for food manufacturing is a glaring oversight.
"The closure of yet another food producer demonstrates the weaknesses in the Welsh government's current strategy to support business and grow the foundational economy. There is a real danger that any proposed strategy will be too little too late and cold comfort to the 640 employees likely to lose their jobs before the summer."
But a Welsh government spokesman said it recognised the importance of the Welsh food industry to the economy.
"We are making significant progress in this area and achieved 6% growth in food and drink sales last year and a combined turnover for agriculture, fishing and food manufacture of over £5.2 billion," said the spokesman.
"The Minister for Natural Resources and Food, Alun Davies, has set out his proposals to support the Welsh food and drinks industry in the new draft action plan and has made a commitment to deliver a 30% increase in turnover by 2020."
Marks & Spencer said moving cake supply was a "tough decision" but wanted to make its food supply chain more efficient.