Griff Rhys Jones Cardiff Uni chancellor move is delayed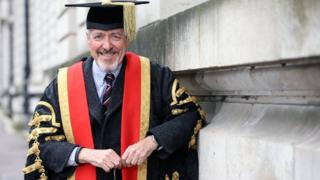 Cardiff University has delayed a ceremony to appoint Griff Rhys Jones as its next chancellor.
The ceremony to confirm the Cardiff-born TV personality in the role was cancelled shortly before it was due to begin on Thursday afternoon.
The university said the appointment had been referred back to the university council "for further consideration".
It added: "Professor Sir Martin Evans remains as chancellor until the end of his current term on 31 July 2014."
Rhys Jones would have become the 23rd person to hold the post if the ceremony had gone ahead as planned.
He has said he was looking forward to taking up the honorary role "with great anticipation".
Cardiff University said it would not be going into any further detail on the matter at present.