Dementia services 'not sustainable', care review finds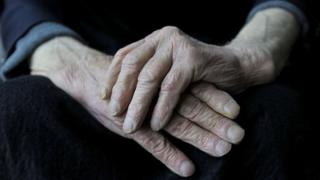 Dementia services across Wales are not sustainable with changes needed to cope with future demand, a review has found.
The Care and Social Services Inspectorate Wales (CSSIW) says local authorities and health boards need to speed up the integration of health and social care services.
The Alzheimer's Society said one in three people will develop dementia, and called the report a "wake-up call".
The review covered July 2013 to January 2014.
The number of people across Wales with dementia is projected to rise by 31%, with some rural areas expected to see increases of up to 44%.
Key points from the report were:
services to carers are varied and underdeveloped in some areas despite carers' strategies being in place
significant gaps in planning and provision of prevention and early intervention services
commissioning of preventative services from the third sector is ad hoc
greater focus needed on the quality of care and patients' quality of life when monitoring service contracts.
The report found that there was evidence of movement towards integrating health and social care services but it was too slow.
CSSIW chief inspector Imelda Richardson said: "Local authorities and health boards must increase the pace at which they are transforming services to deliver integrated models of care that will effectively support people with dementia and their carers."
Ruth Tucker from Pontypool had both of her parents diagnosed with dementia, but found there was no central point she and her family could turn to for help.
She told BBC News: "We didn't know where to go to access help and that was due to lack of communication between between the various bodies.
"We had to do all the chasing around and we felt that it should have been there.
"We should have been able to go to a one-stop shop."