Sting exposes South Wales Police officers theft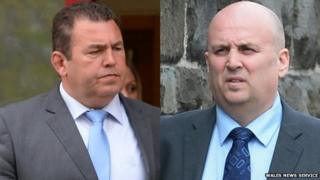 Two South Wales Police officers have been convicted of theft after being caught in an undercover sting by their own force.
Det Sgt Stephen Phillips stole £250 cash and Det Con Jason Evans took two pens, Cardiff magistrates head.
The pair were found out when colleagues staged a fake undercover operation at a house in Neath.
Evans, 44, from Cilfrew, and Phillips, 45, from Skewen, will be sentenced later this month.
They thought they were carrying out a raid in connection with a series of robberies in Manchester, unaware the house was rigged with police cameras.
They then drove to a service station on the M5 to hand over the contents of the raid to officers from Greater Manchester Police who were also in on the sting.
But before the exchange had taken place Phillips had spent £60 of the stolen cash in a gambling machine, said prosecutor David Roberts.
The pair were arrested when they returned to south Wales after it was discovered that the cash and pens were missing.
After the hearing, the force issued a statement explaining that the investigation was part of a "proactive integrity test conducted" by its anti-corruption unit on 4 March.
Both had been performing duties on the drugs and organised crime team in the western part of the force.
Phillips and Evans, who have 26 and 19 years' service respectively, are currently suspended from duties and face misconduct proceedings in due course, said the force.