Easter holidaymakers in Wales urged to take care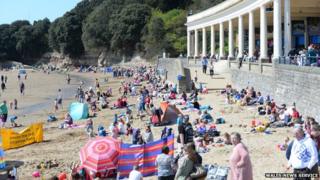 Holidaymakers are being urged to take care over Easter as good weather is expected to attract crowds to resorts and attractions in Wales.
RNLI lifeguards will be returning to local beaches after the number of incidents leapt by a third last summer.
And walkers in Snowdonia are being asked to consider less challenging peaks in the interests of safety.
Meanwhile, North Wales Police are appealing to motorcyclists to take it easy on the region's roads.
The Met Office has predicted good weather for much of the weekend and RNLI lifeguards will be at three beaches along the coast.
They will be initially stationed at Aberavon, near Port Talbot; Whitmore Bay in Barry Island, Vale of Glamorgan; and Tenby South Beach in Pembrokeshire.
But there are plans to roll out patrols to 17 beaches across south Wales during the summer.
The RNLI said nearly 2,000 people got into trouble on Welsh beaches last summer.
Rip currents
Stuart Thompson, who has been training new recruits, said: "We work with the ambulance service as first responders to deal with minor and major first aid incidents, rescue people from rip currents as well as assisting other emergency services to help search for missing children.
"It was great to see thousands of people enjoy the hot weather on Welsh beaches last summer and hopefully we'll see more of the sun again this year."
Welsh Water has warned people to beware of the dangers inland, after two people died in reservoirs in the Brecon Beacons in July 2013.
People had already been seen swimming in reservoirs in Blaenau Gwent and Monmouthshire, the company said.
Chief operating officer Pete Perry said: "Our reservoirs are great places to enjoy organised activities but all too often people are tempted to risk taking a swim which can lead to tragic consequences.
"While reservoirs might seem like a great place to cool off, they are full of hidden dangers with freezing cold water and strong currents."
Welsh Water has produced a video to warn of the dangers.
In Snowdonia, walkers are being urged to consider less challenging routes this Easter as rescuers and emergency services prepare for large numbers of tourists on the mountains.
The MountainSafe partnership has urged people to take care and think twice about tackling the highest peaks.
Meanwhile, North Wales Police are launching an operation aimed at motorcyclists to reduce deaths and serious injuries this summer.
Officers say bikers are more at risk than other road users, representing 1% of traffic but accounting for 18% of fatalities.
Ch Insp Darren Wareing said: "Responsible riders are welcome to visit the area and take in the stunning scenery and landscape, but even they face risk of death or serious injury by underestimating the risk posed by fatigue brought on by a combination of driving long distances and concentrating on navigating challenging and unfamiliar routes."