Crews tackle hundreds of grass fires across Wales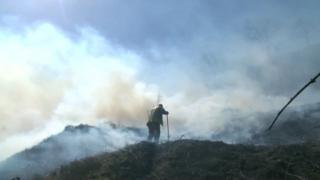 Fire crews have tackled at least 484 grass fires in Wales since the start of April, the latest figures show.
Mid and West Wales Fire Service have dealt with 200, while colleagues in south Wales have been called to extinguish 284.
In north Wales crews attended 56 deliberate fires between 1 March and 14 April.
The South Wales service said the cost of tackling grass fires in its area has already reached £850,000 this year.
Jennie Griffiths, head of the fire control centre at the south Wales service, revealed the figure on Twitter.
She wrote: "284 grass fires this month, 264 in the last 10 days. #firecrime help us stop it, if you see it please report it."
Among the blazes firefighters have had to deal with was a deliberate grass fire set on Caerphilly Mountain at 07:42 BST on Easter Sunday.
They also spent three hours battling a deliberate blaze on a mountain in Rudry on Saturday night, which affected over three hectares (7.4 acres) of land.
Mid and West crews attended grass fires on mountains in Upper Brynamman, near the Brecon Beacons National Park, and in Baglan in Neath Port Talbot on Saturday.
North Wales Fire and Rescue Service's arson reduction team have been using Facebook during the Easter holidays to post messages highlighting the consequences of fire.
They have specifically targeted people living in the arson hotspots of Holyhead and Wrexham.
The service said police were also carrying out extra patrols in Rhyl, Colwyn Bay, Porthmadog and Holywell, where a number of deliberate fires were started last Easter.