Gay marriage 'patience' urged by Archbishop of Wales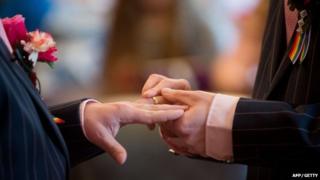 Supporters of gay marriage should be patient if they want the blessing of the Church in Wales, its archbishop has said.
Dr Barry Morgan told the church's governing body in Llandudno that there was no single Christian viewpoint on issues such as same-sex relationships.
He warned of the dangers of the church being seen as homophobic, but called for discussions to be "charitable".
Gay marriage became legal in March, but is not yet allowed in church.
After MPs passed the bill to legalise gay marriage in England and Wales, albeit not in church, the Church in Wales ordered a report into same-sex relationships.
The Archbishop has previously said he was surprised that the Church in Wales had not been consulted about the religious restrictions, saying it should have the freedom to make its own decision.
'Evolved and changed'
And speaking to the governing body on Wednesday, he stressed that Christian teaching did not always offer simple or definitive answers on issues such as same-sex relationships or assisted dying.
"We often see what we want to see," Dr Morgan said.
"We often use Scripture to reinforce viewpoints that we have already arrived at in other ways and for other reasons.
"Some people have changed their minds for example on women's ministry and same-sex relationships when they have experienced the ministry of a woman priest in the one case, or discovered their own son or daughter to be gay in the other."
The Archbishop pointed out that the church's view on remarriage of divorced people had also "evolved and changed" after it had first been legalised by the state.
He asked: "Will we, as a Church, eventually adopt the same approach as far as same-sex relationships are concerned, as we have done about re-marriage after divorce, or is gay marriage in a different category from the re-marriage of divorced people? Whatever our viewpoints, I hope that our discussions can be charitable."
Dr Morgan urged clergy keen to publicly bless same-sex marriage to be patient.
"Much as some people may want to do so, the rule is the same as was the case over the re-marriage of divorced people - we need to wait for the Church, as a whole, to decide the matter - and we are beginning that process at this governing body."
Members will consider reports on same-sex marriage and assisted dying during the two-day meeting but will not be asked to decide the church's view on either issue.
There will also be discussions about the guidelines on the ordaining of women as bishops, which will be allowed in Wales from September.