Wales NHS emergency care suffers uncertainty, AMs say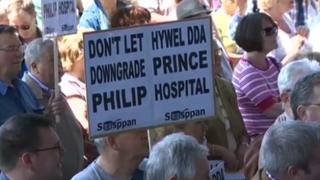 Emergency care in Welsh hospitals is suffering from continued uncertainty over the future of A&E units, an assembly committee has said.
The threat of closure is making it difficult for hospitals to recruit and keep key staff, according to a report by the Public Accounts Committee.
Their inquiry followed an auditor general's report last year which said A&E services were deteriorating.
The Welsh government said it would respond to the report in due course.
The state of the NHS in Wales has been the subject of much debate over waiting times, along with plans to downgrade A&E units at Prince Philip Hospital in Llanelli, Carmarthenshire, and the Royal Glamorgan Hospital in Llantrisant which have met public opposition.
Committee chairman Darren Millar said: "The pressures facing the delivery of unscheduled care services in Wales are complex.
"While there has been an effort by those working within NHS Wales to drive forward improvement, we are yet to see the major step change in performance that the people of Wales need.
Challenges
"The committee concludes that radical solutions are required to address the challenges faced by our health services.
"We also want to see an end to the uncertainty surrounding the provision of emergency health departments - especially given the challenge that this is presenting to recruitment in our hospitals."
However, the committee said there was "mixed evidence" on the issue of patients said to be visiting A&E departments inappropriately and called for more research to see if it was a serious problem.
Problems have already been highlighted in auditor general's report last September which blamed confusion over when people should go to A&E, staff shortages and problems with the flow of patients through hospitals for an increase in waiting times since a previous report in 2009.
And the Public Accounts Committee said on Friday there had been some improvements, but widespread problems remained.
The AMs made several recommendations, including:
increased immunisation, including more flu vaccines for NHS staff
work to end uncertainty about the future provision of emergency department services across Wales
more work to promote alternatives to visiting a GP, such as other health professionals or phone access to advice
a wider range of performance measures for unscheduled care to allow for comparisons in the UK and beyond
more work to offer GP services within emergency departments
a progress report on plans for a non-emergency 111 phone line
A Welsh government spokesperson said: "We welcome the publication of the Public Accounts Committee report into Unscheduled Care. We will consider the report findings closely and respond to the committee in due course."