Students face 'cost of living' burden, says NUS Wales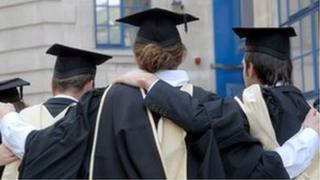 A third of students in Wales have seriously considered leaving their course, with most blaming the cost of living, says the students' union.
The National Union of Students (NUS) Wales said students face more than tuition fees as a financial barrier.
It said the Welsh government's review of support for students should take account of the NUS's research.
The Welsh government said its review, due next year, would address students' priorities.
NUS Wales said its research shows that the cost of living is "clearly putting a strain on students' ability to stay in education," in addition to tuition fees.
'Impact'
Deputy President Beth Button said: "No student should have to choose between heating or eating.
"No longer can Wales afford to ignore the impact that the cost of living has on students' ability to complete their studies."
A Welsh government spokesperson said: "This report reveals that despite improvements in the economy, students, like many others across Wales, face tough financial times and can struggle to deal with the rise in increased living costs.
"That is why we've put in place what we believe is the most equitable student finance system we've ever had in Wales."