Resignation call follows Lee Rigby ballot slogan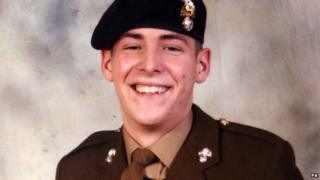 Two Welsh politicians have called for the head of the Electoral Commission to resign for allowing the name of murdered soldier Lee Rigby to be used to promote a far-right political party.
Britain First will use the description "Remember Lee Rigby" on ballot papers in Wales for May's Euro elections.
Geraint Davies MP and Simon Thomas AM have called for Jenny Watson to resign.
Ms Watson has apologised about the incident, saying it "should never have been permitted".
Fusilier Rigby, from Middleton, Greater Manchester, was murdered as he returned to his barracks in Woolwich, south-east London on 22 May 2013. He died of multiple cut and stab wounds.
Two men, Michael Adebolajo, 29, and Michael Adebowale, 22, were found guilty of his "barbaric" murder after a trial at the Old Bailey.
Adebolajo was given a whole-life term and Adebowale a minimum of 45 years in jail.
Now, the Electoral Commission is facing a parliamentary inquiry into allowing Fusilier Rigby's name to be used by Britain First on ballot papers.
It follows Cabinet Office Minister Greg Clark writing to House of Commons Speaker John Bercow requesting that the error was investigated to prevent "such a mistake ever happening again".
Mr Bercow - chair of the Speaker's Committee which oversees the work of the Electoral Commission - said he "wishes to see an independent inquiry, conducted as a matter of urgency".
The Electoral Commission said it has apologised to Fusilier Rigby's family and said the description will not be used in future but that it was too late for ballot papers to be changed in time for the vote on 22 May.
But Swansea West MP Geraint Davies said the chair of the Electoral Commission should resign for the mistake. The call was echoed by Plaid Cymru AM Simon Thomas.
Britain First, which describes itself as a "patriotic political party and street defence organisation" is fielding four candidates in Wales.
The soldier slogan will only appear on ballot papers in Wales, as the party is not fielding any candidates in the Euro elections in England, while in Scotland it has chosen to use another description for itself.
A list of all candidates and parties standing in the European Parliament elections on Thursday 22, May, is available here.