Children aged 10 in Wales are getting drug help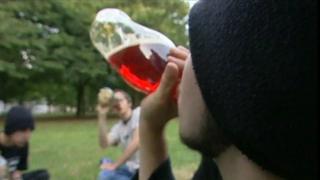 Children as young as 10 are among hundreds of Welsh youngsters referred to specialist drug and alcohol treatment services.
The youngest person referred in Wales in the last three years was 10 years old and from Monmouthshire.
However 11-year-olds in Blaenau Gwent and Caerphilly were also referred, according to figures released.
It has sparked concern from charities who have called for better drugs education in schools.
The figures emerged after a Freedom of Information request by the Press Association, which contacted local authorities across the UK and Scotland.
The worst figures were seen in South Ayrshire, Scotland, where children as young as four have been referred for treatment.
| COUNCIL | AGE |
| --- | --- |
| Blaenau Gwent | 11 |
| Bridgend | 15 |
| Caerphilly | 11 |
| Flintshire | 14 |
| Monmouthshire | 10 |
| Neath & Port Talbot | 12 |
| Pembrokeshire | 12 |
| Powys | 12 |
| Rhondda Cynon Taf | 15 |
Andrew Brown, director of programmes at charity Mentor UK, which works to protect children from drug and alcohol misuse, said he was shocked at the findings.
"We think it is vital that alcohol and drug education improve," said Mr Brown.
"Our own survey of teachers suggests that at the moment delivery is inconsistent, and that the norm is to timetable only one or two sessions a year.
"This may sound sufficient, but evidence would suggest that longer programmes that systematically build skills and values are much more likely to prevent young people from coming to harm than one-off lessons."
'Take responsibility'
Reacting to figures, Keith Vaz, chairman of the Commons Home Affairs Select Committee, said: "It is vital that parents take responsibility and additional support is given to them in order to prevent children being exposed to drugs and alcohol in the first place."
Children are most commonly referred for treatment by education providers or youth offending teams.
Swansea drug and alcohol charity Sands Cymru's chief executive Ifor Glyn said: "I would be concerned about any child taking drugs or drinking alcohol, but we need to be realistic and accept that young people have always experimented.
"It could be that a 10-year-old has taken sherry on a Friday night and it was a one-off. That does not mean that person has a serious drug problem."
The Press Association contacted local authorities for figures in the years 2011/12, 2012/13 and 2013/14.