Gwent and North Wales Police forces crime recording boost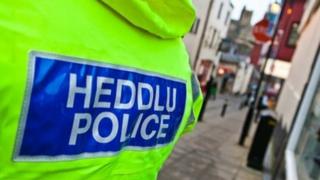 Two of Wales' police forces are among the best performers when it comes to the recording of crimes, according to an interim report.
So far, Her Majesty's Inspectorate of Constabulary (HMIC) has looked at 13 of the 43 forces in England and Wales.
It found weak management, significant under recording of crime and a lack of victim focus when making decisions.
But Gwent Police, which has come under fire in the past, and North Wales Police are above the national average.
Gwent recorded 86% of crimes, missing eight and North Wales Police recorded 93% with five crimes not recorded.
Gwent also topped the list when it came to reclassifying crimes as non-crimes - initially recording as a crime but after reviewing later evidence deciding it was not a crime - with all its decisions correct.
There were 16 occasions when North Wales Police made an incorrect decision in relation to non-crimes.
Gwent Police Chief Constable Jeff Farrar welcomed the report.
He said: "Although it shows there is still more to be done to raise standards and achieve greater national consistency, I am pleased that the inspectors have found that nearly nine out of every 10 crimes inspected were recorded in accordance with national rules and that we are above the national average in this regard."
Improving
Last year, an internal review was ordered after the force's Police and Crime Commissioner (PCC) Ian Johnston accused former chief constable Carmel Napier of manipulating figures after the force recorded the largest fall in crime in England and Wales in 2011/12.
The review found crime levels may be up to 8% higher than official figures.
Ms Napier quit in June after an order from Mr Johnston to "retire or be removed" and she later told MPs it followed "menacing and bullying" treatment by the PCC.
HMIC's inspection of the 13 forces found a fifth of crimes in England and Wales could be going unrecorded and said 14 alleged rapes were among the offences that had not been recorded by officers.
Home Secretary Theresa May said the report exposed "unacceptable failings" by the police.
But North Wales Police PCC Winston Roddick said it was necessary to acknowledge where achievements are taking place.
He told BBC Wales: "The pursuit of perfection is a vain pursuit - 72 out of 78 [crimes recorded during the March inspection] is remarkably good against the background that some are failing very, very substantially."