Wales Coast Path tourism campaign to mark anniversary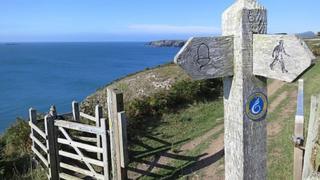 A campaign to boost tourism on the Wales Coast Path is being launched to mark the second anniversary of its opening.
Events will take place over the next month under the banner Love the Welsh Coast, including the Big Welsh Walk.
Culture Minister John Griffiths will join ramblers at Southerndown in the Vale of Glamorgan to mark the launch.
A report last year said the path had attracted nearly three million visitors and generated £32m in 12 months.
The coastal path stretches 870 miles (1,400km) from the River Dee in Flintshire to Chepstow in the south east of Wales.
Imagination 'captured'
Work on the path began in 2007 with the formal opening in May 2012.
The Welsh government said it had spent up to £2m a year since 2007 creating and maintaining the path, which is the responsibility of Natural Resources Wales.
Mr Griffiths said: "The development of the Wales Coast Path is already providing a boost to local economies around our coastline and is attracting thousands of visitors to Wales.
"The work going on to maintain and improve the path will only increase the number of visitors and the economic benefits in future."
Emyr Roberts, chief executive of Natural Resources Wales, said: "In the first two years since it opened in May 2012, the Wales Coast Path has made a significant contribution to the Welsh economy and captured the imagination of the nation.
"There are excellent recreational opportunities along the path that are available for local people and the visitors who come to explore, showcasing the diversity of the landscape and habitats along our coastline."