Fire crews return to work after three days of strike action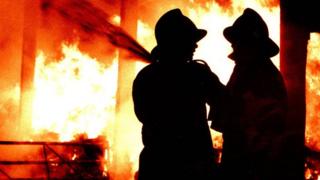 Firefighters across Wales held a third consecutive day of strike action on Sunday in a dispute over pensions.
One senior fire officer said call-outs had to be prioritised. Incidents included traffic collisions and deliberate fires.
Crews held a five-hour walkout on Sunday which followed a 12-hour strike on Saturday and action on Friday.
The UK government said firefighters had one of the most generous pension schemes in the public sector.
Firefighters have taken action after UK government plans to raise their retirement age from 55 to 60 and increase pension contributions.
Mid and West Wales Fire and Rescue Service dealt with two road accidents on Sunday with a "serious" collision on the A489 near Newtown, Powys, and another on the M4 at junction 47 near Penllergaer, Swansea.
Senior fire officers criticised those who had started deliberate fires during Saturday's walkout, such as those at Pembroke Dock and on the car park of the Liberty Stadium, Swansea.
In north Wales, chief fire officer Simon Smith said "resources were stretched unnecessarily" with crews having to attend one suspected deliberate fire, although no further details were given.
"Again we managed the reduction in the resources that we had at our disposal well," he said.
Firefighters were also called to a report of an elderly female stuck in mud in Johnstown, Carmarthen, a barbecue on fire at Saundersfoot, Pembrokeshire, and a car on fire in a field at Llanymynech, Powys.
In south Wales, assistant chief fire officer Rod Hammerton said: "We were unable to provide the same high level of response to incidents as we normally would and as a consequence prioritised our response to those in most critical need.
"The arrangements we put in place to provide a service during strike action worked well.
"As soon as the strike period came to an end we were able to ensure a quick and safe return to normal services."
The Fire Brigades Union (FBU) has held a series of short strikes across Wales and England since September, claiming firefighters should be allowed to retire earlier than other workers from such a physically demanding job.
Matt Wrack, FBU general secretary, said: "After three years of negotiations and an intense four months presenting an indisputable, evidence-based case for the need to ensure a pension scheme that takes into account the unique occupation of firefighting, the government is still burying its head in the sand."
A spokesman for the Department of Communities and Local Government said: "The deal on the table gives firefighters one of the most generous pension schemes in all the public sector, and the proposals protect the earned rights of a higher proportion of members than any other public sector scheme.
"Nearly three-quarters will see no change in their pension age in 2015."