Call for independent exams watchdog in Wales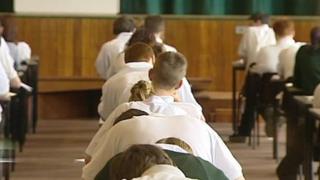 Head teachers are calling for an independent exams watchdog to be set up in Wales with immediate effect.
They want the introduction of a Welsh government bill to pave the way for an independent exams regulator.
It would mean Wales would have a neutral judge to adjudicate in any dispute over standards.
The Welsh government said it was in the process of setting up a body which would separate regulation from government.
The proposals is being discussed on Sunday at the National Association of Head Teachers UK (NAHT) annual conference in Birmingham.
The call comes after the controversy which saw a sudden dip in January's GCSE English language exam grades in Wales.
Head teachers wrote to the education minister saying the test results had eroded confidence in the examinations system.
"I've found it embarrassing to have to answer negative comments from colleagues in England about the way we are developing our examination system in Wales," said Flintshire head teacher Mark Biltcliffe, who is due to introduce the motion.
"What the Welsh government must do now is bring forward straightaway a Government of Wales Bill to establish independent regulation of our new examination system.
"Without the security of independent scrutiny we leave ourselves open to the charge that we couldn't run a picnic in a pie shop."
A Welsh government spokesperson said: "As NAHT Cymru should be fully aware following our consultation, we are in the process of reforming our qualifications system and subject to legislation, Qualifications Wales will be established by 2015.
"It will regulate awarding bodies and quality assure qualifications - this will separate regulation from government."