Food festivals get £184,000 to promote local produce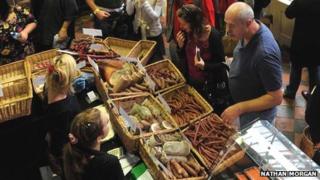 More than £184,000 has been set aside to help food festivals promote home-grown produce this year.
A total of 28 festivals have received money from the Welsh government to "raise the profile of the high quality food and drink" made in Wales.
Natural Resources and Food Minister Alun Davies said the events helped food producers increase customer numbers and strengthen their business.
An action plan aims to help the sector increase turnover by 30% by 2020.
"High quality, distinctive food is a central part of our culture here in Wales," said Mr Davies.
"And I am determined to help develop this culture to help our food and drinks industry thrive.
"Food festivals also attract thousands of people into the hearts of our towns and villages, providing a welcome boost to local businesses and the rural economy."
Festivals set to benefit from funding include:
Abergavenny Christmas Food & Drink Fair
Abergavenny Food Festival
Big Welsh Bite, Rhondda Heritage Park
Brecon Beacons Food Festival
Broneirion Food Fair, Llandinam
Caerphilly Food Festival
Cardiff International Food & Drink Festival
Cardigan Bay Seafood Festival, Aberaeron
Cardigan River & Food Festival, Cardigan
Feastival, Bridgend town centre
Gorseinon-Swansea Food Festival
Gwledd Conwy Feast
Gwyl Fwyd a Chrefft Portmeirion
Gwyl Fwyd Castell Newydd Emlyn, Newcastle Emlyn
Hay Summer Food Festival
Hay Winter Food Festival
Lampeter Food Festival, Trinity St Davids, Lampeter
Llangollen Food Festival
Mold Food Festival
Mumbles Oyster Festival
Narberth Food Festival
Neath Food & Drink Festival
Newport Food Festival
Newtown Food & Drink Festival
St Fagans Food Festival
The Anglesey Oyster & Welsh Produce Festival
Welsh Perry & Cider Festival & Championships, Monmouth
Wrexham Food Festival
Since January, sea salt from Anglesey has been able to class itself in the same league as Parma Ham and Champagne after it was granted protected status by the European Commission.
It is for foods which are produced, processed and prepared in a specific region using recognised expertise.
Pembrokeshire Potatoes won the status in October, while the growers of Denbigh plums, have also applied for recognition.