Public toilets have 'vital role' for elderly, AMs told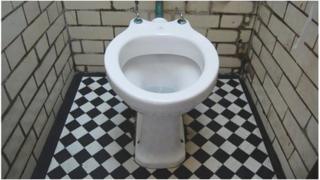 Public toilets play "a vital role" in helping older people to get out of the home, campaigners are to tell AMs.
A new draft law by the Welsh government will put the responsibility on local authorities to make sure there are enough public toilets.
The campaigners are meeting a cross-party group at the Welsh assembly looking at how to address the issue.
Age Cymru's Graeme Francis said: "It's certainly a significant problem for a large number of older people."
He told BBC Radio Wales that the charity's research had shown that up to half of older people consider whether public toilets were available before they decided to go out.
"That may not stop all of those people but say it only stops a small proportion out of 600,000 older people, it's a lot of people who will feel isolated from their communities and struggle to access vital services if toilets aren't available," said Mr Francis. "We are concerned at the moment, as a lot of services are under threat, particularly those run buy local authorities, [that] toilets are one of those.
"We don't think toilets are generally hugely expensive to operate but they are just one of those services that local authorities provide and in very challenging times they are looking to make savings wherever they can."
Labour AM Mike Hedges, who chairs the cross-party group, said he believed that "in any civilized society" older people should have "easy access to public toilets" in their community.
He added: "A lack of public toilets leaves older people feeling isolated as they choose to stay at home, rather than meeting with friends and family out in their community."
He said the group's meeting "will give AMs the chance to discuss how we support older people in ensuring they have access to the right public services".