Virgin Soldiers author Leslie Thomas dies aged 83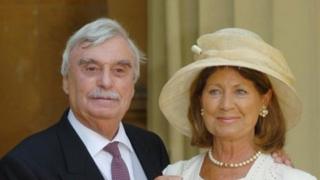 The author Leslie Thomas, best known for his comic novel The Virgin Soldiers, has died aged 83.
Thomas, born in Newport, south Wales, was brought up in a Barnardo's home from age 12, and was a Fleet Street reporter before he began novel writing.
In 2004 he was appointed an OBE for services to literature having sold millions of books worldwide.
He died at his home near Salisbury in Wiltshire on Tuesday after a lengthy illness.
He leaves his wife, four children and four grandchildren.
The Virgin Soldiers, inspired by Thomas' national service in Malaya, tells the story of a group of British soldiers based in the Far East.
The success of the novel - and two subsequent feature films - allowed Thomas to become a full-time writer.
He wrote more than 30 novels including Tropic of Ruislip and Dangerous Davies, The Last Detective, both of which were adapted for television.
Thomas's father, a sailor, died when he was a boy but he used his experiences of growing up in an orphanage to write his 1964 first novel, This Time Next Week.
Wartime
His success as a novelist came after a career as a journalist, starting as a reporter on a weekly newspaper before a stint on Fleet Street with the London Evening News.
Among the stories he covered was the trial of Nazi war criminal Adolf Eichmann.
Born into a seafaring family, Thomas maintained his connection with Newport.
In 2002, he unveiled a wartime painting at Newport Art Gallery that was never finished after the artist Stanley Lewis was called up for military service.
Speaking after the announcement of his death on Wednesday, his wife, Diana, said: "He had a wonderful life and he travelled the world. All he ever wanted to do was write and that is what he did.
"He died at home with his family around him."
The childrens' charity Barnardo's tweeted: "Very sad news about the death of author and former Barnardo's boy Leslie Thomas - our condolences to his family."
'Raconteur'
Author and former chief executive of Literature Wales, Peter Finch, said Thomas shied away from what he saw as Wales's literary establishment, but did attend events encouraging young writers.
He said: "He was super friendly person. There was no edge to him whatsoever. He was a slightly private person but he was good company.
"He was a raconteur. That was his strength, which you can tell from the books."
Yvonne Rodgers, Director of Barnardo's Cymru said: "As one of our Vice-Presidents, Leslie helped to promote the charity's work with vulnerable children and their families."
She added: "Leslie never forgot the support he received when he and his brother were taken into Barnardo's care following the death of his parents. Barnardo's is very grateful for the support he gave us."