Super Furry Gruff Rhys says Madoc tribe story 'a myth'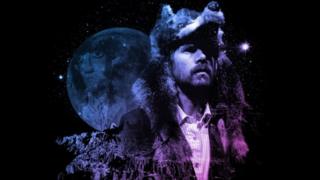 Reptile wrestling, bison hunting, land grabs, mortality, and Welsh-speaking Native Americans. Welcome to the latest project from musician, artist and author - Gruff Rhys.
American Interior is an attempt to retrace the steps of an 18th Century ancestor of the Super Furry Animals's frontman - and investigates the legends surrounding Prince Madoc.
Did the ancient Welsh prince really land on the shores of the United States some 300-years before Columbus - and was there really a Welsh-speaking tribe of indigenous Americans?
Rhys attempts to answer that question with not just a documentary film - getting its Welsh premier on Friday - but also an album, book and an interactive smart app.
All as he wanders in the footsteps of north Wales relative, John Evans - a man who skipped his home land and life as a farmhand in Snowdonia at the age of 22.
Evans set out for the distant shores of America back in 1792, determined to discover whether the Welsh prince Madog ab Owain Gwynedd, or Madoc, really did sail to the New World.
Myth-buster
According to the myth, proof of the prince's journey lay in the discovery of a Welsh-speaking tribe.
But flash-forward to the 21st Century - and Gruff Rhys is confident the so-called lost tribe of Madogwys never existed.
"John Evans proved that Madoc is myth, which is an unpopular assumption to make," said Rhys.
"Even though it's a myth, the myth has become hugely influential on American history."
Rhys played a series of solo concerts in America from Baltimore to New Orleans, accompanied by just an acoustic guitar, PowerPoint presentation and a three-foot high avatar of Evans.
As he travelled, he uncovered more details about his unconventional ancestor.
Explorer
The colourful story says Evans wrestled reptiles in the Mississippi, hunted bison with the Omaha tribe of Nebraska, became a Spanish subject in St Louis and annexed North Dakota from the British.
"He's an incredibly brave and romantic figure, who is almost beyond classification. His story is quite unique," said Rhys.
"He failed in some ways but it's a glorious failure. He didn't find the tribe. Ultimately he was looking for mythical tribe descended from a mythical prince."
The adventurer died aged just 29 in New Orleans. But not before he had completed his Madoc odyssey, leaving behind a legacy of maps that were later used by explorers to open up America's hinterland.
"He had a profound effect, on the future geography of the USA, but this was very different from what he set out to do," added Rhys.
American Interior opens in selected cinemas on Friday.