Overseas visitors figures in Wales increased in 2013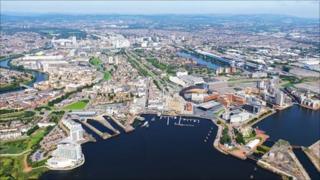 Overseas visits to Wales were up 3.5% last year with spending totalling £353m, new figures show.
Cardiff was the 12th most visited city or town in the UK, but overall Wales is lagging behind England and Scotland, the Office for National Statistics (ONS) study shows.
Overseas visitor spending in Torfaen and business trips to Blaenau Gwent were so low they did not register.
In contrast, Welsh residents spent £920m enjoying 1.5m foreign holidays.
Most were to Europe and north America, with Spain and France amongst the most popular destinations.
On visits to Wales, ONS found:
There were 884,000 visits from overseas visitors
The total spent by overseas visitors amounted to just 3.1% of the £11.2bn spent in London and less than a quarter of that in Scotland
Cardiff was the most popular place visited with most people coming from Europe and north America, and the total visitor spend in the capital was £111m
Swansea was the next popular destination, followed by Pembrokeshire, Gwynedd and Newport
Torfaen had just 3,000 foreign visits during 2013 and the amount people spent was so low it failed to register in the study
There were 71,000 business trips to Cardiff and 21,000 to Newport, but figures for Blaenau Gwent were below that which are counted.