Mephedrone effects 'put off' users, Sands Cymru chief says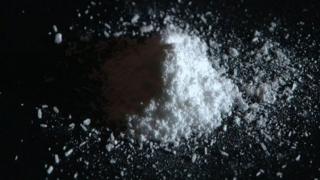 People are being put off using mephedrone because of its side effects, according to a charity which has seen a huge reduction in the drug's use.
Swansea-based Sands Cymru admitted a year ago drug agencies and the police were "caught out" by the speed with which mephedrone, known as meow meow, spread in south Wales.
But now it says there has been a change in the last 12 months.
It comes despite a judge warning this week of the drug's epidemic levels.
"It was a really significant problem about a year ago," said Sands chief executive Ifor Glyn. "It was something that came really quickly affecting so many people.
"It wasn't just affecting people who were using it at the weekends, it was affecting people using heroin.
"It affects the way people look really quickly, a significant loss of weight and people getting quite violent.
"Over time people see how damaging it is and move on to other drugs - that's the only explanation we can give."
Until April 2010 mephedrone was considered a "legal high", but because of its potency and powerful side effects the drug was reclassified.
Mr Glyn said the drug came in quicker than others he has seen in over 20 years with the charity.
Bucking the trend
He added: "It was six months and then in a matter of about another six months it's disappeared. We are not seeing as many problems as this time last year."
Last year, the Southern Wales regional organised crime unit, Tarian, issued a report showing the number of offences involving mephedrone rose significantly, bucking the trend in other parts of the UK.
It showed a 165% increase in the number of offences involving the drug in Wales between April and June 2013, compared with the same period in 2012.
Llanelli, Swansea, Bridgend and Newport topped its list of hotspots along the south Wales corridor.
On Wednesday, sentencing seven men involved in conspiracies to traffic drugs, Swansea judge Peter Heywood said mephedrone has become the "drug of choice".
However, Mr Glyn believes the worst appears to be over but warned that agencies cannot afford to be complacent.
"You get a new drug coming on the market every week," he said. "The government makes something illegal and the chemists will change a chemical compound and it will be legal.
"There's nothing that has come on the scene to the same extent as mephedrone, but it doesn't mean there won't be something new."